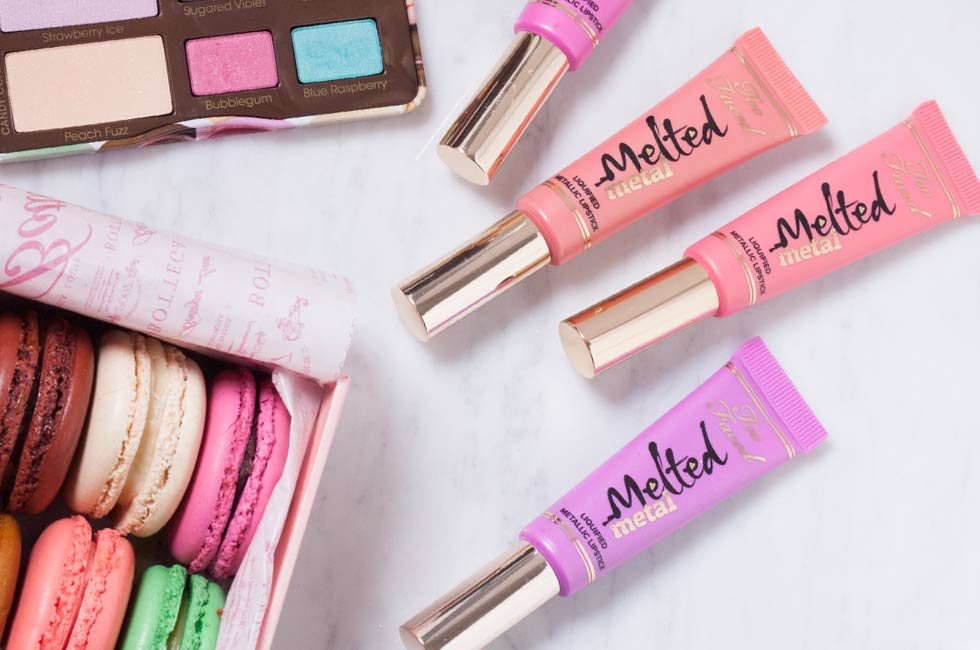 Just in time for the days to start getting really warm, Too Faced has debuted their new line of Melted Metal Lipsticks, and we're nuts about them! These pink and purple metallic lipstick shades are summer in a tube. Remember 90's metallic lipstick? Yeah, us too:( These are nothing like those chalky, hard-to-apply colors—you smooth one of these Melted Metal shades over your lips and they actually melt with the heat of your skin, blending into a shimmering metallic shade that is as creamy as melted ice cream. Each tube has a precision tip, which makes the product easy to apply on-the-go, sans lipliner.
Three shades that you should put on your radar as the weather heats up:
Melted Metallic Peony | shop it

This is it; this is the dream. This is the lipstick shade that everyone who has ever tried out frosted pink lipstick was ever going for. It's basically perfect—at first seeming perhaps slightly too light, too mild-mannered, Peony melts into your lips and BAM: it's a light pink that could possibly look like incredibly shiny natural-colored lips, but is so metallic and color-rich it could not be so. It's glazed metallic pink, and it's going to look DOPE with your sunglasses when you're driving with the windows down this summer. Note: exfoliate your lips first, as this shade is light and brings all the focus immediately to your pearly lips.
Melted Metallic Bunny | shop it

Well-named. This is an icy, intensely metallic pink-pink, a traffic-stopping color. Squeeze out a tiny dot of Bunny onto the cushion applicator and swipe—presto, your lips are about to get a lot of attention. Something to know about the Melted Metal line is that you have to give the lipstick a minute; it doesn't look the same when you first put it on as it does after it's fully applied and you've waited a moment for it to melt in.
Melted Metallic Dream House | shop it

Dream House! Ahh! Like Barbie's Dream House melted onto your lips! The brightest of the three shades we test drove, Dream House is a hot metallic magenta that smoothes on like lip gloss but gives you such a pop of color that all eyes will be on your lips. This is a great going-out color. While the whole Melted Metal line is very comfortable and non-drying (it really does feel like lip gloss), it isn't kiss-proof, so apply with abandon and look icily perfect everywhere you go.
All of the Melted Metal lipsticks are bright; actually, they're very bright! The key to calmly walking out the door with liquefied metal on your lips in Barbie shades is total confidence—you know you look amazing, the precision tip helped you line everything perfectly, and you put a tube in your bag to touch up a few times during the day to keep that look fierce. You will be getting attention. Soak it all in!
---
View Original Article