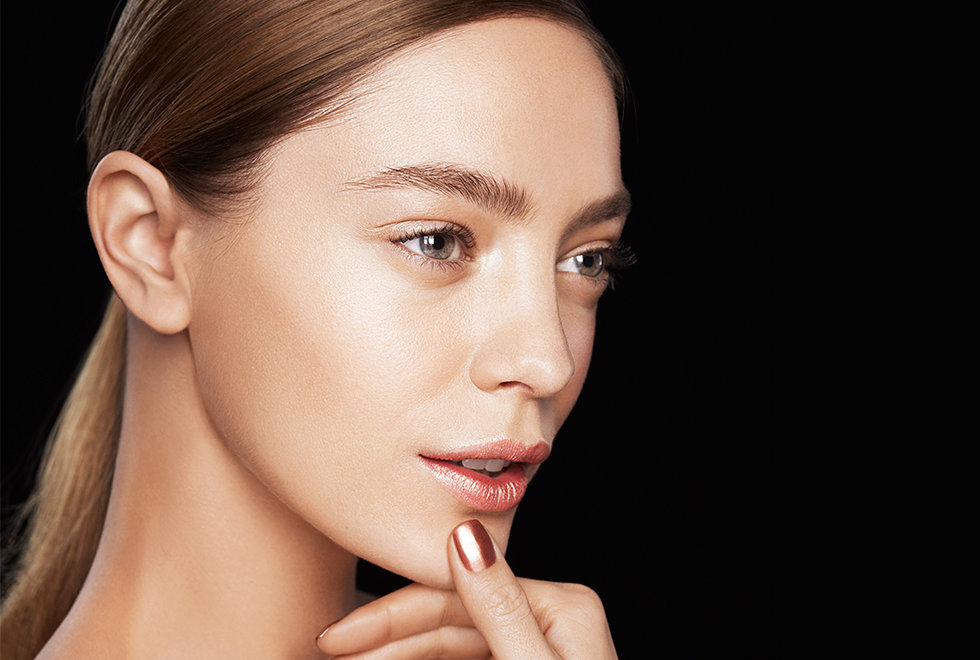 If you love a good highlighter (every makeup lover I know perks up their ears), then you probably already know about rms beauty's Living Luminizer. For a year now, this has been my personal holy grail — the only highlighter I know of that is cruelty-free, organic, and not sparkly, oily, or super-shiny. This highlighter is IT, folks! It's sheer, easy to apply (fingers!) and adds a subtle luminosity to the places on your face you want to strobe up a little bit. I have been known to rub Living Luminizer on my collarbones. I have even delicately highlighted my ears with it (which led to an odd compliment at a bar that compared my ears to "delicate little clamshells", but that is another story).
I cannot say enough good things about this product. So imagine how excited I was when I started following rms's Instagram and noticed they had a new highlighting tool: the Master Mixer. WHAT.
This rose gold highlighter claimed to be universally flattering and capable of easily mixing with blush, eye shadows, and lipsticks to create new shades. Amazingly, at the exact same time I was greedily eyeing this Master Mixer, my editor at Beautylish emailed me to ask if I wanted to try it out! Did I want to try it? Is the Pope Catholic? When the package arrived in the mail, I clawed the box open without using scissors.
The results were heavenly. The Master Mixer is a subtly shimmering rose gold shade, sheer enough to be barely noticeable on the skin. It just makes you look...glowy, in a warm way. I immediately tried it out in a multitude of different ways:
As a highlighter
Apply this product to your upper cheekbones, the inner corners of your eyes, the bow of your lips and your browbone. Don't worry, there's no glitter. The highlighter just makes you look like you walked into really good lighting. It makes your skin appear like you're radiating good health from the inside out. Bonus freakout tip: you can use this with the Living Luminizer, for the kind of sun-kissed dewy look that only babies frolicking along ocean shorelines have.
As an eye shadow
Use your fingers to sweep this on your bare eyelids, and delight in the subtle glimmering of your mermaid-like eyelids. The color is buildable, so if you'd like to see it a bit more shade, just add another smudge and you're good to go.
As a lip shimmer
A dot of Master Mixer in the center of your lower lip helps the mouth look fuller, and you can also simply use this rosy gold shade as your actual lip color. It's smooth and feels creamy.
BUT WAIT! This is called the Master Mixer! Let's mix it with other makeup we already own!
Mix it with any lipstick


Swipe a bit of Master Mixer onto any lip shade you're already wearing (I tried it with rms Lip2Cheek in Beloved) and it instantly lightens the shade a smidge. The bright red I had on took on slightly pinker tones - it was a whole new shade.
Try it with blush


I put some Becca Beach Tint crème stain on my hand, blended it with the Master Mixer, and ended up with a flattering, subtly highlighted, flushed cheeks.
Use it with any eye shadow


Tap on any cream or powder shade of eye shadow and put a touch of Master Mixer on top - it adds a hint of rose gold sheen to any shade. I tried it first with rms Cream Eye Shadow in Seduce, using my fingers to blend the two shades, and loved the effect of rose gold on top! (If you have oily lids, you could dust a teeny bit of translucent powder on top to keep the cream color on throughout the day.)
Next up was the real test for me: how would it work on a powder shadow? I used this trial as a chance to bust out my brand-new Natasha Denona eye shadow in Arizona (a matte, toasted fawn shade) and used a brush to pop the shade on my lids. Then, using a finger, I swiped on the Master Mixer, not really expecting much, but then I saw it added a glowy extra dimension to my lids! Three hours later, the shade was still on, with no trickle-down. Master Mixer 4 Prez!
---
View Original Article