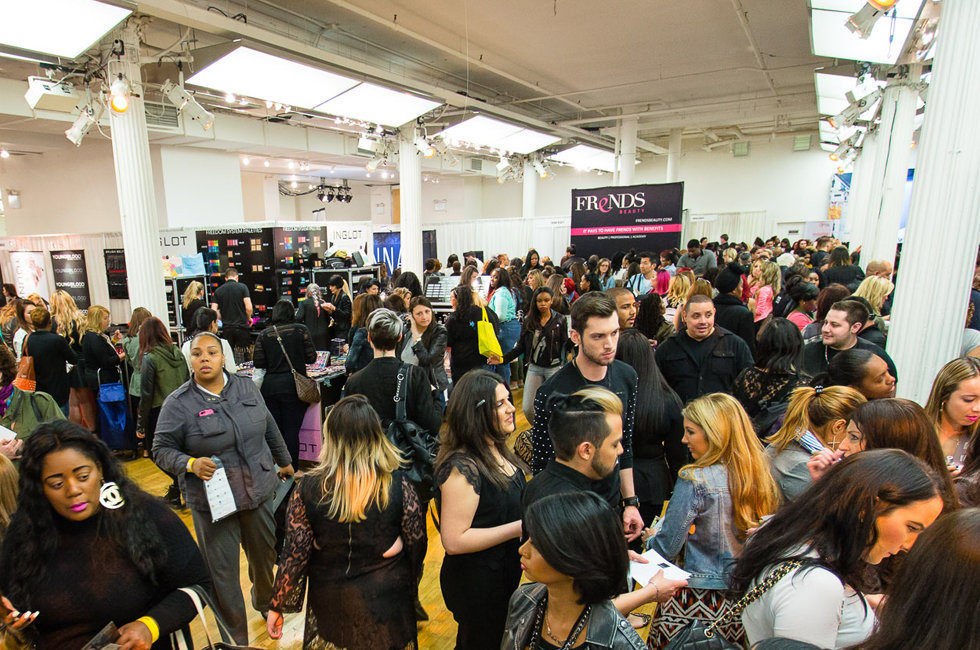 Photo by: The Makeup Show
Whether you're a seasoned trade show attendee, or you've got your first coming up quick, you could probably use some pointers. A cool 10 hours of shopping, standing in lines, networking, fangirling, and education can leave your head spinning and your makeup wearing. We spoke with Armour Beauty owner Theo Kogan and The Body of Art's MUA and body painter Dani Fonseca about the do's and don'ts of smooth tradeshow sailing.
Planning makes perfect
You make a list for the grocery store, so why not for the trade show? Writing out a loose schedule or priority booth plan is essential to keeping your day together and avoiding what Fonseca calls, "kid in a candy shop syndrome". Sticking to your list can keep impulse buys at bay and social distractions from taking over your afternoon.
Do your research, and budget wisely
Too many good deals can send even the best planner on a splurge spree. Do you really need all the shadows in the new collection, or that high tech brush everyone is talking about? Set a budget for the day (including meals) and make your priority purchases early. Have extra funds left over? Fonseca says why not treat yourself? When buying for your kit, it's only fair that you should get a little something for your personal stash too.
Don't shy away from the little guys
As a brand founder, Kogan knows the importance of giving baby brands a shot. After all, everyone has to start somewhere. "Make sure to check out smaller booths", Kogan suggests, "and especially ones that are not mobbed with long lines because you may just find some new favorite products".
Touch and try products in person
Many brands usually are only available online or in a very limited number of retail locations. The trade shows are a great place to try that highly pigmented shadow or touch that incredibly soft brush. This is your chance to demo some of the more specialty items, so be sure to visit booths that have products you may be curious about, even if you're not ready to take the plunge at the show. At least you'll have confidence about what you purchase later online.
Pack a personal picnic
Save your money for makeup goodies and pack a healthy lunch. "Don't shop hungry", Fonseca warns, "If you are uncomfortable you will be cranky and not make wise purchasing decisions". We suggest food you can eat on the move like wrapped sandwiches, cut veggies and fruit, and healthy snacks such as nuts, crackers, and energy bars, which will turn an especially long line into lunch hour. Also pack a water bottle and refill it in the bathroom or at the fountain.
Don't lose your cool around your role models
The worst thing you can do when meeting a talent is take up too much of their time. Whether you pass by a famous personality in the crowd, or happen upon a well known artist or brand owner working a booth, realize they busy and probably feeling overwhelmed. Don't crowd them. Wait for a calm moment and then let them know you appreciate them. Asking for a quick hug or a handshake is welcomed when it feels appropriate, and always ask before snapping a picture. Don't try and network with them unless it's legitimate.
Take advantage of seminars and workshops
There are countless benefits to taking time out for seminars at trade shows. Besides exposing yourself to new makeup techniques and acquiring new skills, Fonseca tells us workshops can help those indecisive shoppers make educated choices. Don't just buy that palette because everyone is talking about it. See it in action first and feel better about adding it to your haul. Fonseca adds, "Workshops are also a welcomed opportunity to sit down and rest for a bit. On the other hand, don't pack your schedule too much, or your brain will be fried and you won't have time to shop".
Network smart
There's none better than a tradeshow to make new and valuable connections, but stay slick about it. "Bring business cards but don't give them out to everyone", suggests Fonseca,"Give them to good leads and people you made great relationships with. If you give them out to everyone it seems desperate, and most people will never use them unless they have a strong reason to". Also keep your phone charged so you can store emails and instagram handles of any new friends you meet throughout the day.
Keep the deals coming
Many brands offer extended discounts that you can sign up for at the booth to take advantage of trade show deals down the road. Kogan urges, "You should sign up for pro discounts where you can, and then if the line is too long or you run out of steam you can order it later". Score!
---
View Original Article