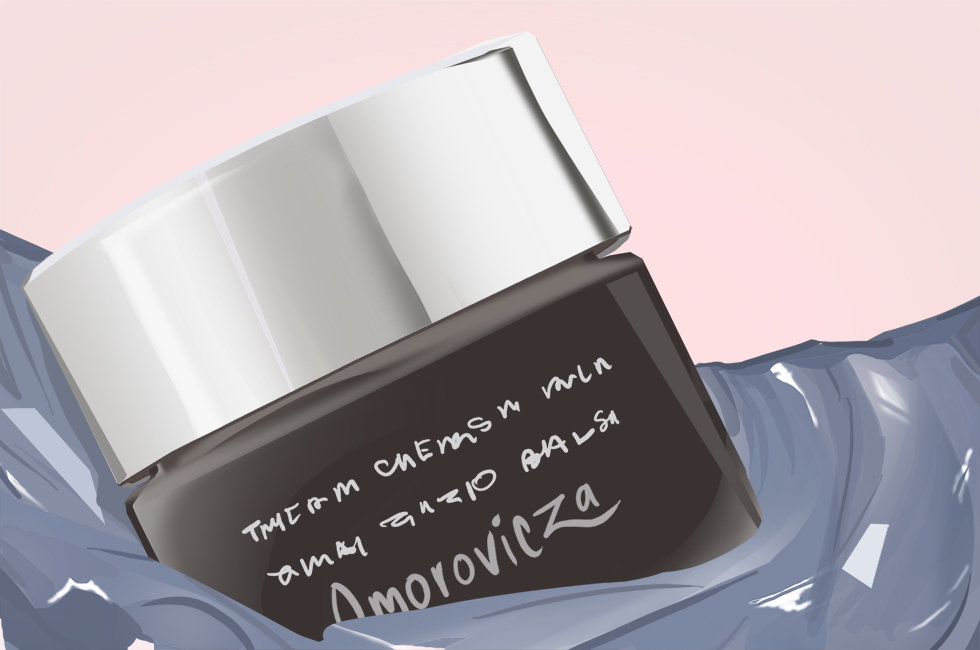 In the latest part of our skincare series, we're focusing on cleansing balms. We spoke to Adrienne Harsanyi, Omorovicza's senior facial therapist, to find out the benefits of using cleansing balms and what makes their Thermal Cleansing Balm the perfect addition to your skincare routine.
Q: What is a cleansing balm? Should it be used to remove makeup or to wash the face after the makeup has been removed?
Cleansing balm is an oil-based, everyday cleanser that is safe for all skin types. It's similar to to cleansing oils, but instead comes in a solid form. Our Omorovicza Thermal Cleansing Balm removes makeup, impurities and leaves the skin nourished all at the same time. There's no need to use an additional makeup remover or cleanser.
Q: What makes using cleansing balm a good option for cleansing the face? Is there a specific reason someone would prefer a cleansing balm to a foaming cleanser?
Cleansing balm has many different benefits—it dissolves dust, makeup, dirt and sunscreen without stripping skin of its natural oils. Cleansing balm is generally less messy than other facial cleansers and also includes more natural ingredients. Our Thermal Cleansing Balm is made of Hungarian Moor mud which helps to remove impurities and sweet almond oil which replenishes the skin and leaves it soft. It's also highly recommended for those who suffer from dry skin.
Q: How should we apply the cleansing balms?
Take about an almond-sized amount of the balm and warm it up between your fingers. Gently apply to the face, then massage for a minute all over the face, neck and around the eye area.
Q: How should it be removed?
Balms should be thoroughly removed using a damp, lukewarm mitt or washcloth. Rinsing the balm off with water won't completely remove the product, so always have a mitt or cloth ready.
Q: Is it necessary to be extra careful when using the Thermal Cleansing Balm around sensitive facial areas like the eyes?
Cleansing balms are made to remove eye makeup, so it is safe to use around the eye contour area. This is also the perfect cleanser for skin sensitivities such as rosacea. It shouldn't cause any type of reaction as it works only on the surface of the skin.
Q: Can the Thermal Cleansing Balm be used alone or do we need an additional step in our cleansing routine?
The Thermal Cleansing Balm is fine to use alone as a cleanser, but you will want to use a toner afterwards to help restore the skin's pH balance, which will help skin look fresher and smoother. Your cleansing routine should go as follows:
Step One: Massage product onto skin in circular motions giving a little face massage.
Step Two: Remove the balm with a warm, damp cleansing mitt or washcloth.
Step Three: Use a toner to balance the pH of your skin.
We recommend using our Queen of Hungary Mist after using the Thermal Cleansing Balm as it will help purify and tone the skin while providing long-lasting hydration and restoring suppleness. All you have to do is spray the mist evenly across your face and neck from a distance after cleansing.
Q: Are there any other tips regarding cleansing balms in general or the Omorovicza Thermal Cleansing Balm specifically?
Cleansing balms are a great choice for a facial cleanser because they're formulated with oils that that help moisturize the skin while cleansing it at the same time. They are also the perfect travel cleanser—you don't have to worry about drips or leaks because of the solid form and they come in a small jar. Our Thermal Cleansing Balm has a very special ingredient, the Hungarian Moor Mud, that deep cleanses and detoxifies the skin. Plus, the Orange Blossom scent is wonderful! It's the perfect cleanser to use daily.
---
View Original Article