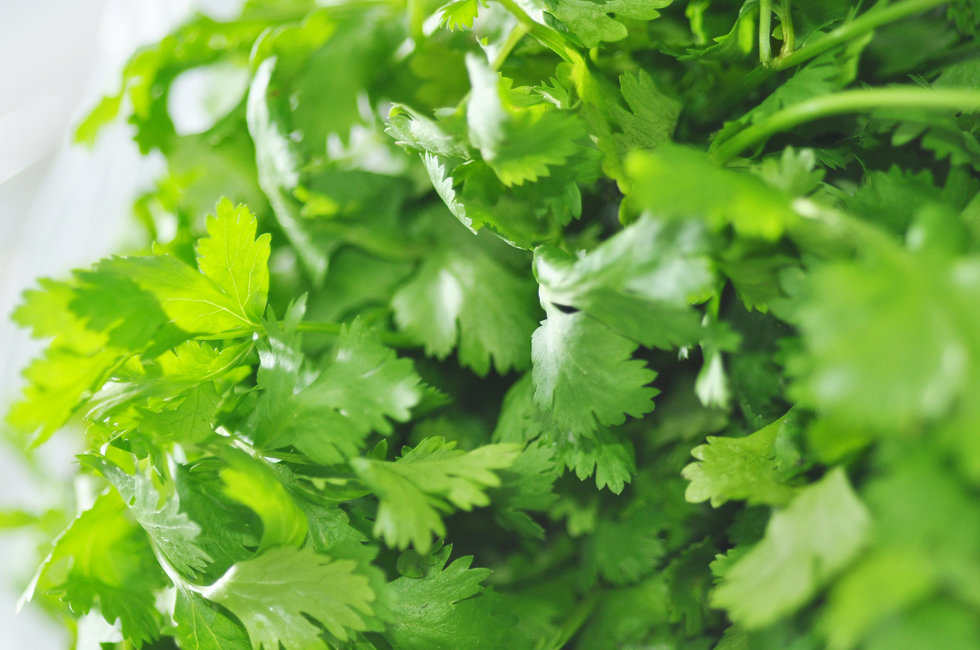 By adding a twist to everyday foods you can easily add fun to your healthy eating plan. Incorporating fresh herbs into your meals is a fantastic way to add extra flavor and boost your radiant glow. The delicate and lacy cilantro leaf is one of my favorite herbs. Here are a variety of ways you can incorporate cilantro into your life.
Body Benefits
Cilantro has been shown in studies to be a detoxifier, binding with heavy metals such as mercury (stored in the brain and fat tissue), and helping to flush them from the body. Another reason to munch on cilantro—some experts believe this chelating action reduces cellulite. Cilantro is also wonderful for it's nerve-calming, anti-inflammatory, antioxidant, anti-diabetic, vitamin c-propelled anti-aging, and alkalinizing properties.
Skin Benefits
When used topically, cilantro soothes and cools skin irritation, and also reduces oiliness and to help clear breakouts. Make an easy facial mask by mashing cilantro in the blender or with a mortar and pestle and apply to the face for 30 minutes. Add in a few drops of lemon juice to spot treat pimples.
How to Use Cilantro
Cilantro can be found in cuisines from all over the world. When used in moderation, cilantro's citrusy-sweet aroma brightens up a variety of dishes without overwhelming them. In your own kitchen you can lend it's international appeal to salads, juices, guacamole, soups, dal, rice and beans, as well as anywhere your imagination wants to add a fresh spark! Like parsley, cilantro is best used fresh, and added at the end, just before serving.
Almond Hummus with Cilantro
This lively and delicious way of making hummus features high protein and easily-digested soaked almonds in place of garbanzo beans, the traditional base for hummus. Serve it any way you like to eat hummus. I love it as a dip for crudité. It's also great as a salad topping, or as a spread on sprouted bread or brown rice crackers (food for life's sprouted tortillas are great!) with your favorite veggie trimmings. Go for certified organic ingredients whenever possible. Keeps in the fridge for up to 4 days, serves 4.
Ingredients:
1 cup raw almonds, soaked in water overnight, rinsed and drained
Juice from 2 small lemons
2 tablespoons raw tahini
1 small clove of garlic, crushed
½ cup fresh cilantro leaves
½ teaspoon paprika
½ teaspoon sea salt
¼ cup water
Olive oil and additional cilantro to garnish
Whiz almonds in food processor or blender, adding water and remaining ingredients until smooth consistency is reached. Adjust seasonings to taste. Spoon into a serving bowl, drizzle with olive oil and decorate with cilantro leaves. Enjoy!
---
View Original Article