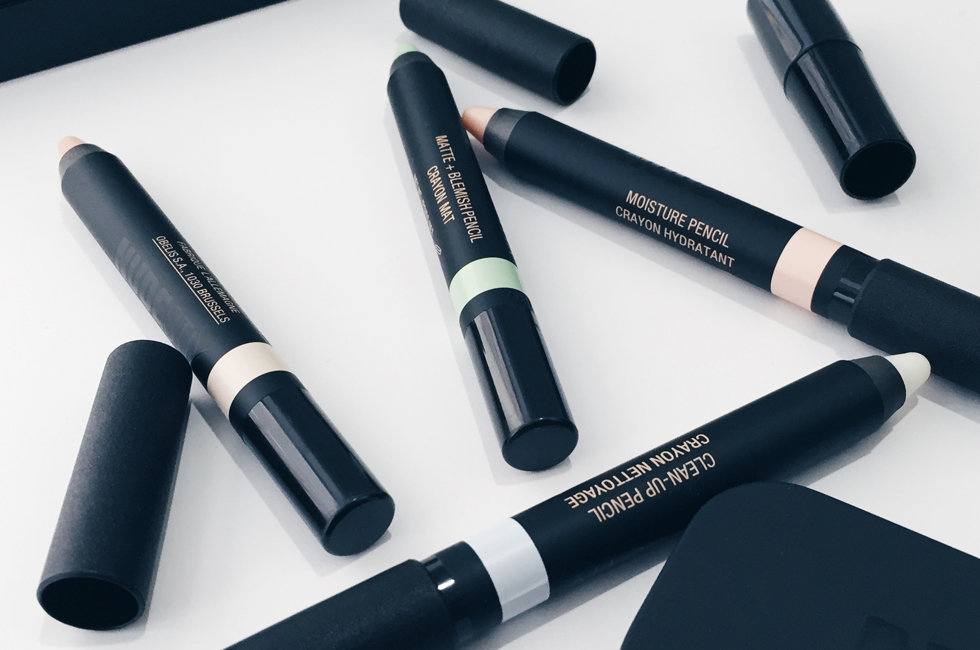 Here at Beautylish, we're all already obsessed with Nudestix, a line of barely-there, your-skin-but-better pencils and pens that can be applied with a swipe of product and a smudge of the finger. But hold onto your Lip & Cheek pencils—there are four new pencils designed to be used to help your skin and makeup look even more perfect and glowy. I snatched them out of their adorable matte black tins (there's a mirror in the lid and each pencil includes a heavy-duty sharpener!) and took each Skin Pencil for a spin.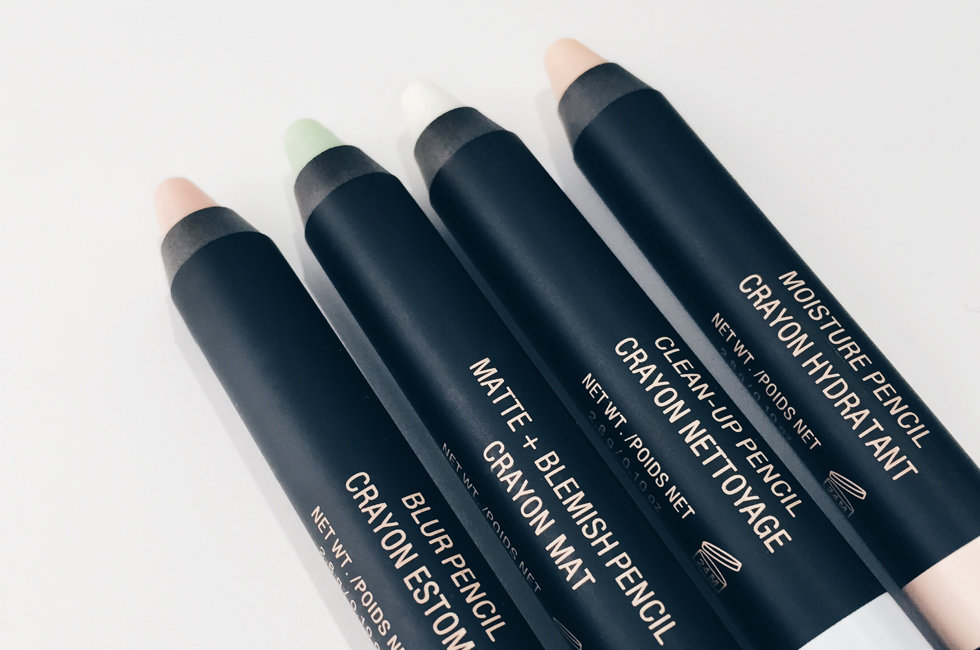 Moisture Skin Pencil, $24 | Shop it
"Are you there, God? It's me, the eczema patches on Krista's neck and cheeks." That's going to be the last thing my dry spots utter when they meet up with this awesome chubby pencil. Argan oil, jojoba oil, Vitamin E, and shea butter are all in this sheer, instant moisture stick, which you can simply dot on dry areas on your face and body and rub in. The product mimics healthy, nicely moisturized skin, and your dry patches feel instantly more like the rest of your skin. Put this on your cuticles, flaky rough patches on your face, peeling nose skin, or anywhere that just feels tight and wrong. This one's going in my purse.
Matte + Blemish Skin Pencil, $24 | Shop it
You guys. This pencil does something I did not believe a pencil could do. You just swipe this sheer pencil on any oily area, like your chin or nose, rub it in with a finger, and it sucks the oil away and makes your skin look matte. WTF. Amazonian clay is the thing that's sucking the oil, and salicylic acid helps with any inflammation and works to fight breakouts. You use this on bare skin, on zits, things that are about to become zits, and shiny T-zones.
Blur Skin Pencil, $24 | Shop it
Fine lines? Pores and creases making themselves too comfortable? You need this pencil, easily my favorite of the skin pencils. It does exactly what it says it's going to do—you swipe this over crows' feet, enlarged pores, frown lines, and nasal folds, smudge it in, and IT BLURS. Like a fuzzy Insta filter on your face. Really what's happening is that dehydrated hyaluronic acid spheres are swelling up and "plumping" your lines n' pores, making your skin look smoother, but blah blah blah science this pencil is amazing and you can see a difference immediately.
Clean-Up Pencil, $24 | Shop it
It is weird to sharpen a makeup remover, but I can deal, especially when I'm dealing with this nifty pencil that erases my (constant and grievous) makeup mistakes. Shaky cat-eye? Overlined lips? Gone, with one swipe of the Clean-Up Pencil. You use this like a little magic eraser for your skin, sweeping it over mascara blobs eyeliner mishaps, and overzealously-stained lips, rub it in with your finger, and then wipe off the mistake with a tissue or cotton bud. It vanishes! Without drying you out or making you start over! And since I get gobs of mascara under my eyes every day of my life, I can see a new, close relationship about to form between me and my Clean-Up Pencil. Like BFFs. Like being BFFs with a makeup pencil.
We're having a Nudestix Contest!
Nudestix Skin Pencils will be available for purchase on Beautylish March 2nd! To celebrate the launch Beautylish is giving away a complete set to 3 lucky winners! To enter the contest, simply log in to Beautylish and leave a comment below with a time or experience when having a Nudestix Skin Pencil could have saved the day! Beautylish will pick our favorite answers. You must be 18 years old or older to enter. Contest ends on February 26, 2015 at 11:59 pm PST. For official rules, click here. Void where prohibited by law.
The contest has now ended. Congratulations to Karlynn A., Melissa G., and K M.!
---
View Original Article