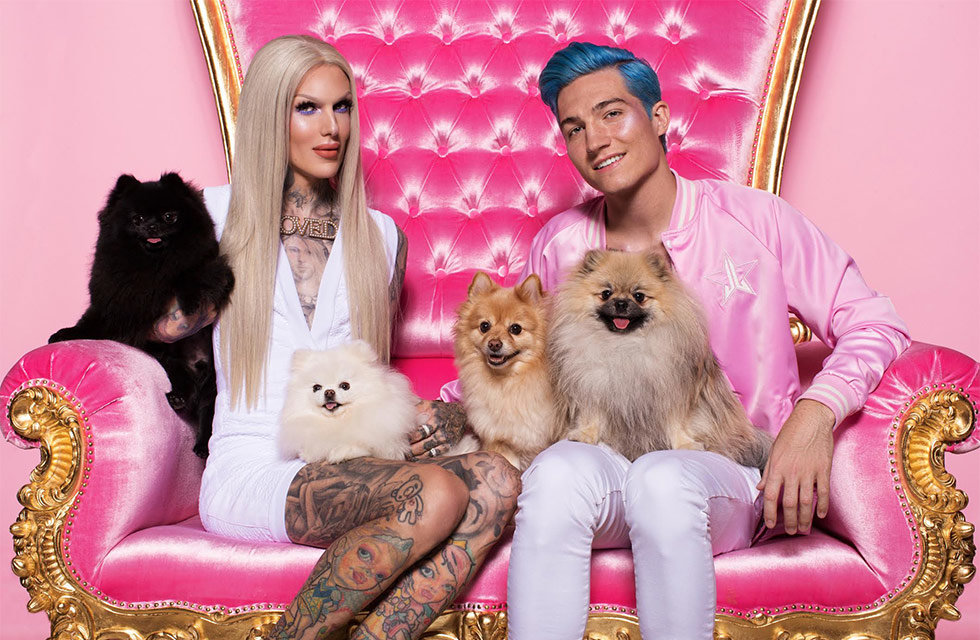 Even casual fans of Jeffree Star have heard about his buzzy new collection by now, and those of us who think that Jeffree Star and his boyfriend Nathan Schwandt are #couplegoals have even more reason to be excited. Jeffree recently gave us a sneak peek of the Star Family Collection, which is themed around Jeffree, Nathan, and their fur children (pomeranians Diva, Diamond, Delicious, and Daddy).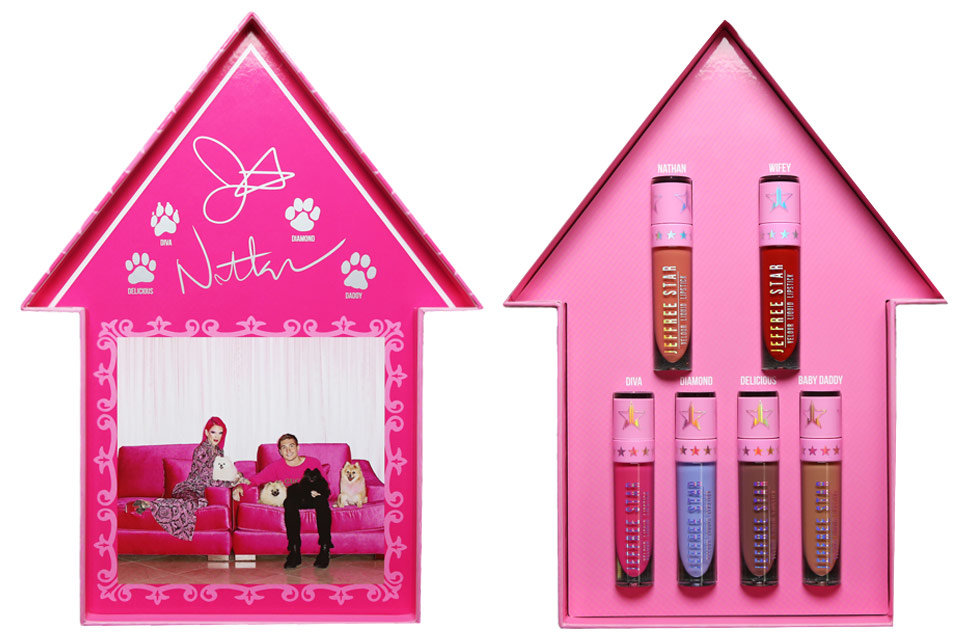 The collection will include six Velour Liquid Lipsticks (one for each member of the family!), plus two new Velour Lip Scrubs and a very intriguing Skin Frost. To celebrate the impending launch, let's take a look at Jeffree Star's little family and the new shades of Velour Liquid Lipstick for each member, shall we?
Jeffree
With his fierce and fearless personality, it makes sense that the shade Jeffree chose to represent himself would be a bold brick red called "Wifey." Jeffree describes it as "darker than Redrum but lighter than Unicorn Blood."
Nathan
Inspired by how much he loves when Jeffree wears a nude lip, "Nathan" is a peachy terracotta nude with bright, warm tones. Designed by Nathan himself, it's unlike every other nude shade in Jeffree's collection.
Diva
Jeffree's first dog, Diva, has sported hot pink fur in the past, so it's no surprise that "Diva" is a bright, warm pink with gold metallic shimmer (!). Jeffree describes it as "Prom Night's Barbie sister." You have our attention.
Diamond
The second pup in the Star pack, Diamond's feisty personality is encapsulated in "Diamond," a bright pastel periwinkle blue. It's the perfect shade for the dog who, according to Jeffree and Nathan, basically runs the household.
Delicious
Jeffree and Nathan got Delicious, an all-black pomeranian, soon after they started dating. His shade, "Delicious," is a chocolatey mauve brown inspired by the lighter color of his fur when he was a puppy.
Daddy
The newest addition to the family, Daddy, is a very cute sable pomeranian who has stolen the internet's hearts. The baby of the family, his shade "Baby Daddy" is a soft and sweet nude caramel.
Watch the video below to see swatches of the new Velour Liquid Lipsticks and learn about the rest of the Star Family Collection. This collection is limited edition, by the way, so if you want to get your hands on Wifey, Nathan, Delicious, or Baby Daddy, sign up here to get notified as soon as they launch.

---
View Original Article