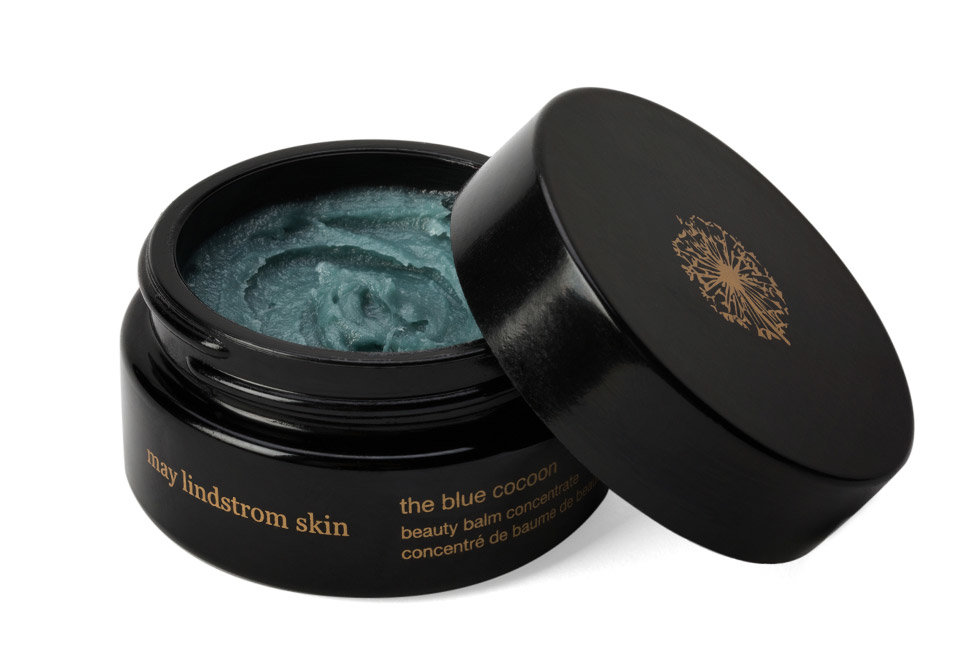 When it comes to skin care, nothing compares to miraculous products that contain a multitude of uses. Imagine using the same sole product as an eye cream, a lip moisturizer and a spot treatment for eczema. Sounds too good to be true, right? Enter May Lindstrom's Blue Cocoon. A cult favorite, loved by everyone from makeup artists to Gwyneth Paltrow, Blue Cocoon is basically a triple threat in the form of an organic balm.
My skin issues are mostly related to redness and lack of hydration, but this inflammation-blasting, ultra-hydrating balm works for these issues too. I first decided to try the product after using a clay mask, paying special attention to my undereye area. In the morning, my skin was super soft with nary a dry spot in sight. My eyes were less puffy and there was no sign of redness.
The best thing? My skin just felt lavish, like someone wrapped it in a loving embrace. I also decided to try it out as a lip balm since my lips are always dried out from constant matte lipstick use. I was not disappointed. This is the one of the best skin care items to have ever been made, in my personal opinion.
The ultimate hydration tool
If your skin is thirstier than the Sahara, Blue Cocoon will be like a tall glass of water. It contains a slew of nourishing organic ingredients such as blue tansy oil, camellia seed oil, shea butter, yangu oil and marula oil which are known to be extremely moisturizing, soothing, and anti-inflammatory.
Fighter of skin problems
If you suffer from skin stresses such as psoriasis, eczema, dermatitis, and rosacea, Blue Cocoon will help ease your discomfort. It's also made for all skin types, whether you're prone to acne or constantly dry.
A lullaby for the skin
Not only is Blue Cocoon some sort of miracle worker for the skin, it also acts as a stress reliever and sleep aid. The blue tansy oil helps to relax nerves, alleviate sleep problems, and manage feelings of frustration. At night before you drift off into slumber land, make sure to keep the jar open and it will act as aromatherapy. Don't worry about the balm drying out (it won't!).
How to use it
After cleansing your skin, apply a pea-sized amount of Blue Cocoon to your still-wet face, or to any specific problem areas. The balm will easily absorb. Always make sure your face is damp — it will only activate with wet skin.
Along with May's other products, Blue Cocoon is preservative-free, hand-crafted, and made right in Ms. Lindstrom's kitchen — so you'll feel even better when you slather on this magic potion.
---
View Original Article