If you haven't been following Alex Faction's Halloween tutorial series on YouTube this October, you're missing out on some seriously spooky looks. The Chicago-based makeup artist's flare for haunting special effects makeup is sure to send shivers down your spine. To celebrate Halloween, we chatted with Alex about his journey as a makeup artist and included a few of his creepiest looks for your viewing pleasure (ahem, horror).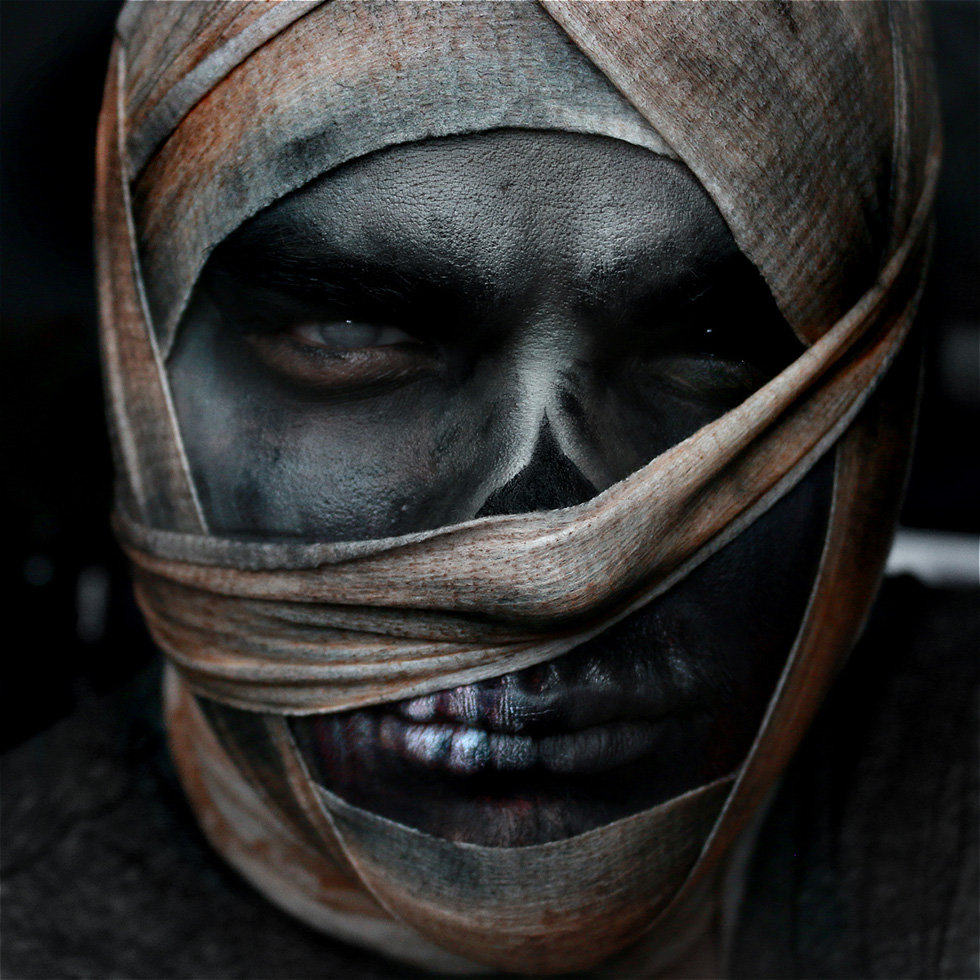 Watch Alex Faction's Mummy tutorial
What inspired you to become a makeup artist?
I actually started off as a hairstylist, but had always had an interest in makeup. My cosmetology program was very small, so I was taught just enough to spark my interest. I took to YouTube to learn more about makeup. I fell in love with makeup, but I also fell in love with YouTubers at the same time because they gave out education for free. It was so inspirational. Once I learned a little bit of makeup, I decided that it was time to give back by starting my own YouTube channel. It started as a resume gap, but then it became my calling.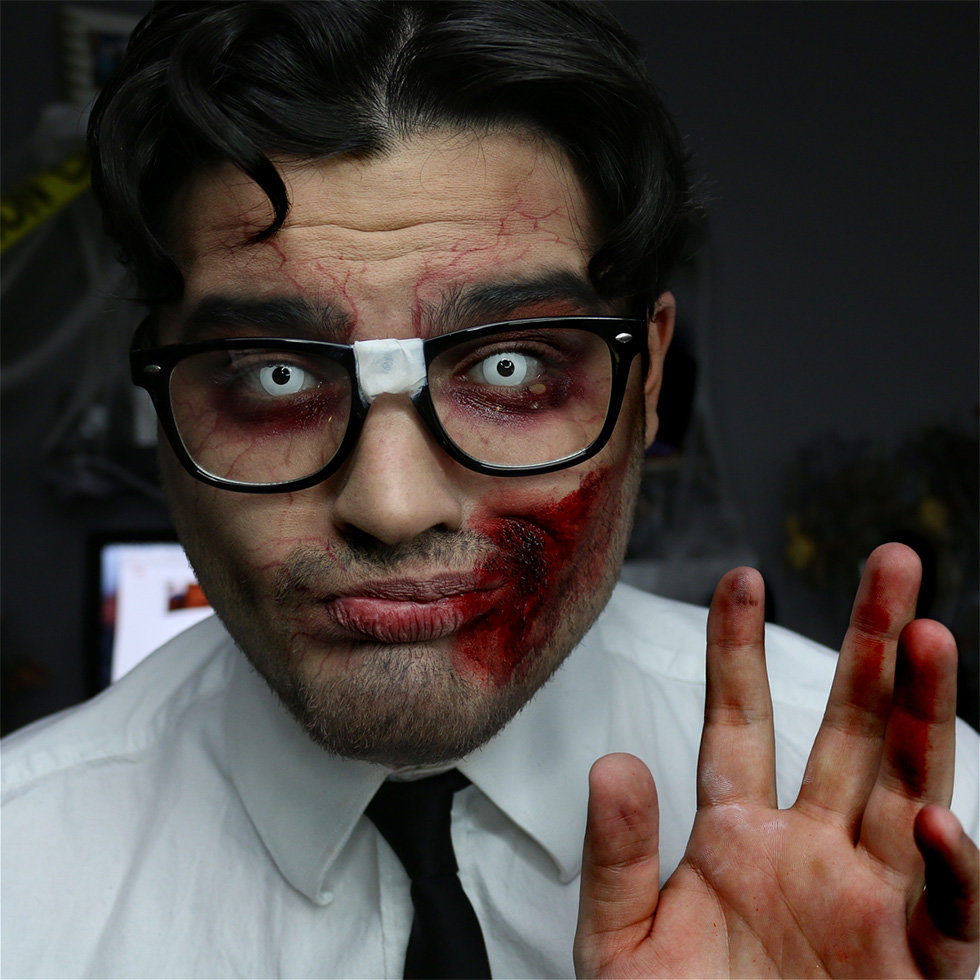 Watch Alex Faction's Zombie Nerd tutorial
How did you get into special effects makeup?
When I started my YouTube channel, I didn't have models waiting outside my door. I thought, What can I do on myself that's fun and artistic and expressive but more 'me'? That's when I started doing special effects and face paint. I was shocked at how much I loved it. That's how Alex Faction on YouTube was born. It was an accident—but the perfect accident.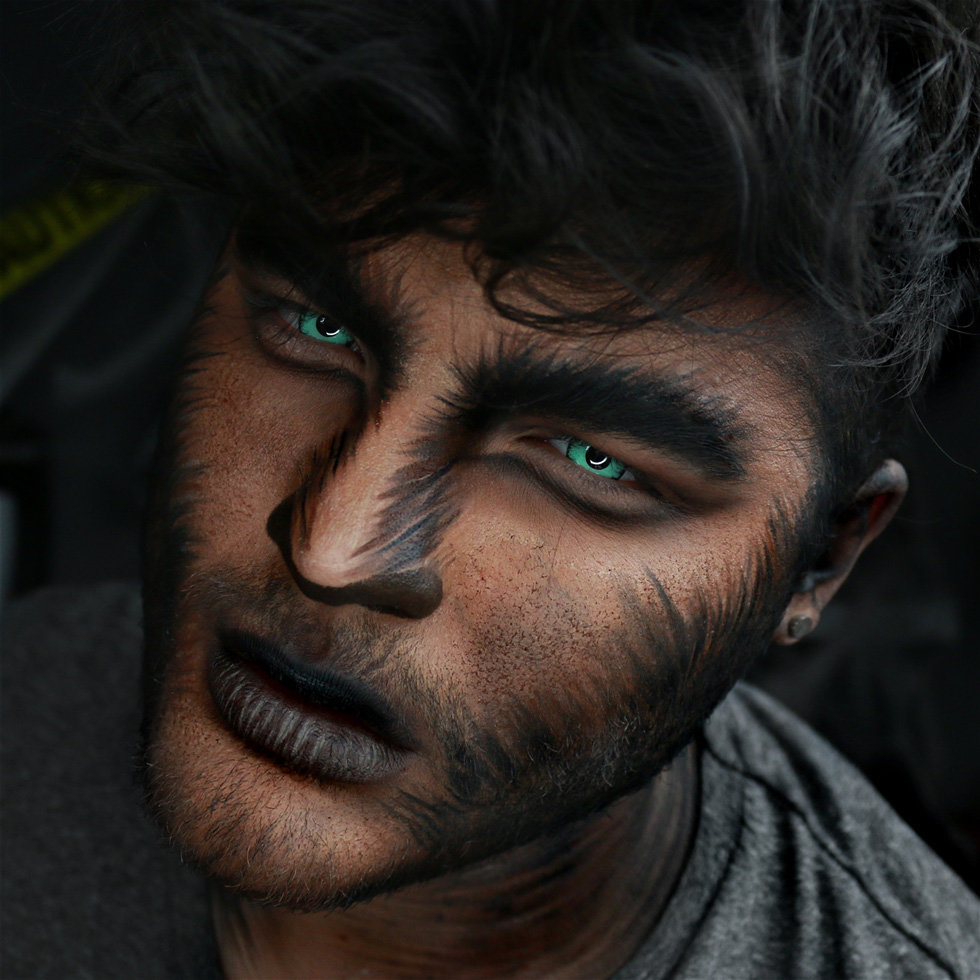 Watch Alex Faction's Werewolf tutorial
Do you approach special effects makeup differently than you would a more everyday look?
I've noticed that I take beauty techniques and twist them. I always start with a face paint base, which is like my foundation, and I highlight and contour as I traditionally would with beauty. I always go back to my beauty makeup roots.
On my YouTube channel, I try to use eyeshadows and contour powders and creams that you might already have. Instead of using face paint, you can use a pigment and a foundation and mix them together. I try to be as accessible as possible.
Watch Alex Faction's Superman tutorial
What's one thing in your kit that you can't live without?
If I had to pick one thing, it would have to be a cream, like a Make Up For Ever Flash palette or another cream palette. You can mix creams together to create natural beauty tones, or you can mix them to create special effects. You can do so much with them. Also, I'd say an eyeshadow palette. A big one that has vivid colors, neutral colors, warm colors, and cool colors. If you have an eyeshadow palette and one brush, you can do anything.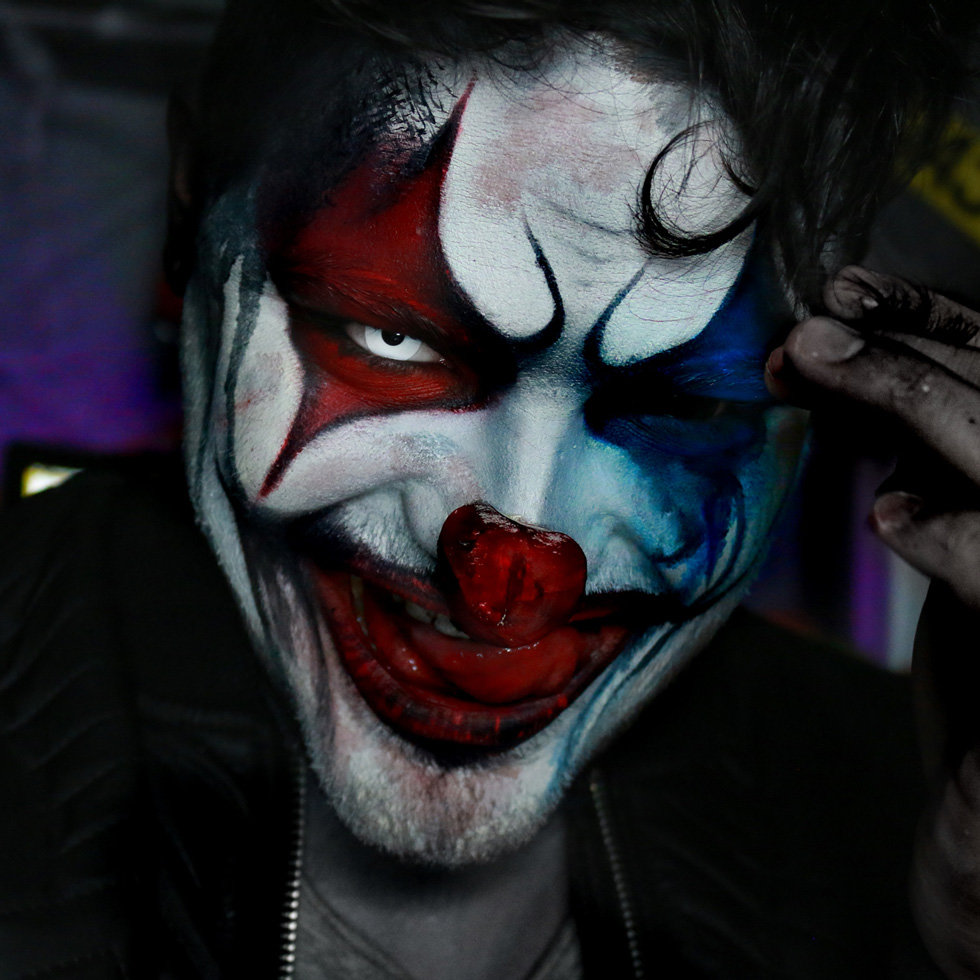 Watch Alex Faction's Crazy Clown tutorial
Tell us about your YouTube channel. How did it start?
It's been about two-and-a-half years since I started it. I just had this entry-level camera and a lamp from Target that I pointed at my face. I had three or four NYX eyeshadow brushes and one BH Cosmetics eyeshadow palette, which were all, like, a dollar. I did a new makeup look every single day. It was all practice and putting myself out there.
Do you have any advice for aspiring beauty vloggers?
The biggest piece of advice I have is to put yourself out there. I notice that people get hung up on the quantity of makeup and the quality of their video. I can't think of a single YouTuber who did that [in their first video]. If you go back to all of our first videos, they're awful! When anyone starts off, there's so much room to grow. Everytime you post a new photo or video, you start to say, "Okay, I need to work on this," and then the ball starts to roll. You improve little by little, and then all of a sudden you wake up one day and you're like, Oh, my God! Look how far I've come!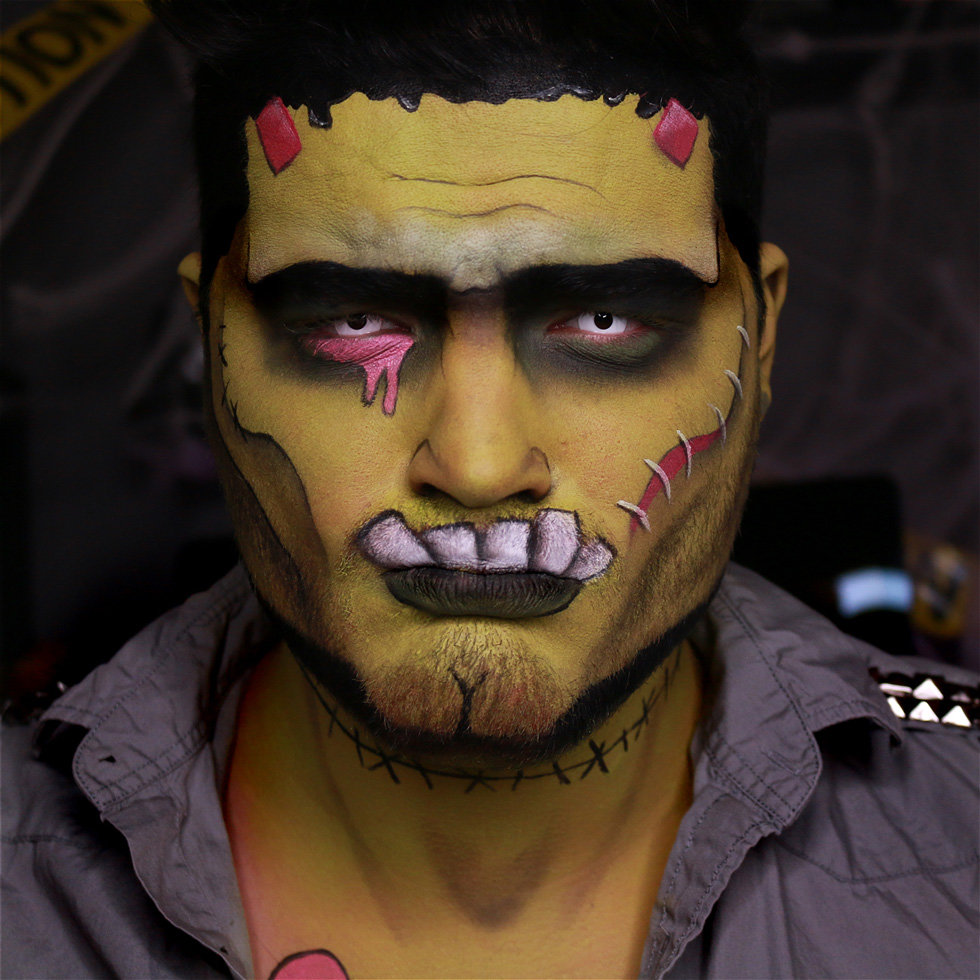 Watch Alex Faction's Pop Art Frankenstein tutorial
What's the biggest challenge you face when making YouTube videos?
I think the biggest challenge is all of the behind-the-scenes work that people don't see. I sit down and I film for four or five hours. That's usually how long the makeup takes. It's the small details and making sure everything's perfect. Another challenge for me has been the video learning curve. I started off as a hairstylist and makeup artist. I wasn't a photographer. I wasn't a video editor. You have to learn cameras and editing programs and lighting. I think back sometimes and I'm like, Whoa. I can't believe I learned all of this by myself.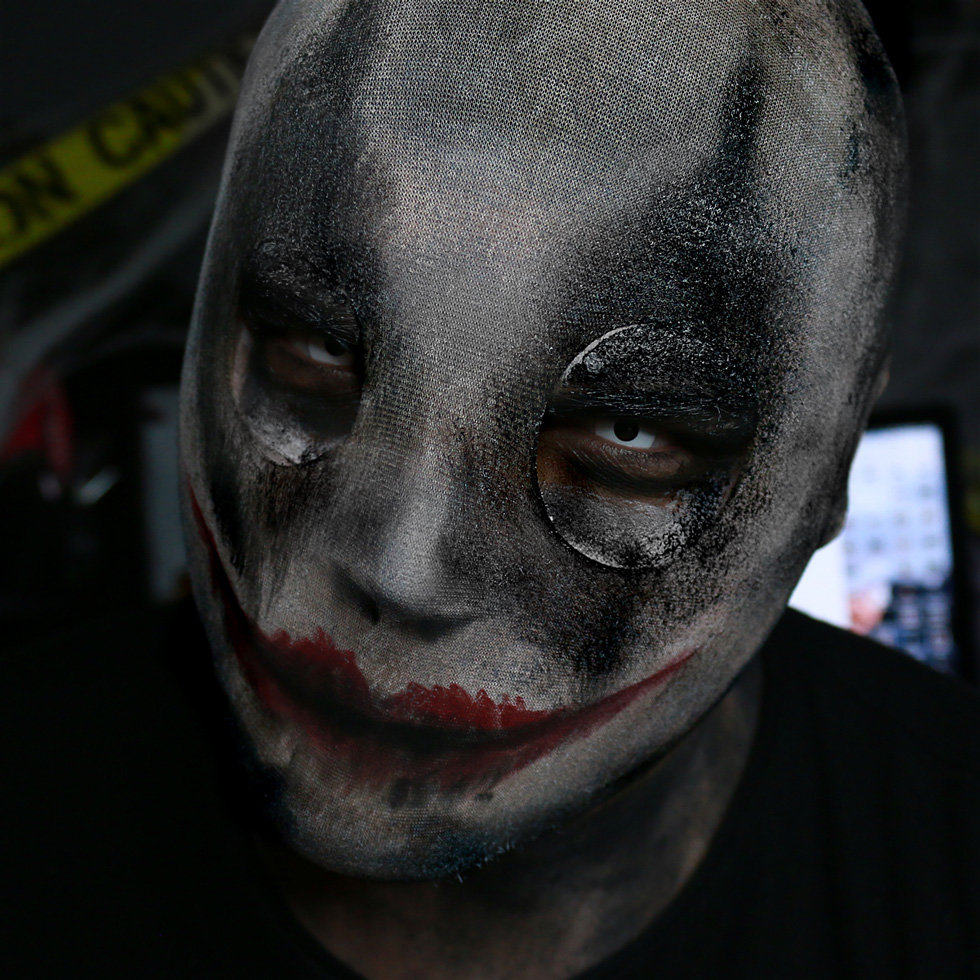 Watch Alex Faction's Psycho Mask tutorial
Everyone here at Beautylish has been loving your Halloween makeup series. What's your favorite look?
I really liked the Psycho Mask because it's so striking [see above]. When you walk into your Halloween party, people are going to be like, "Oh, my God! Who are you?!" The crazy thing about it is that it all cost me under $10 and took about 20 minutes. I like that it's simple and easy to execute. And people are recreating it flawlessly. That's what I really like about makeup—I can go onto YouTube and explain something and people are like, "Wow, this is so easy!"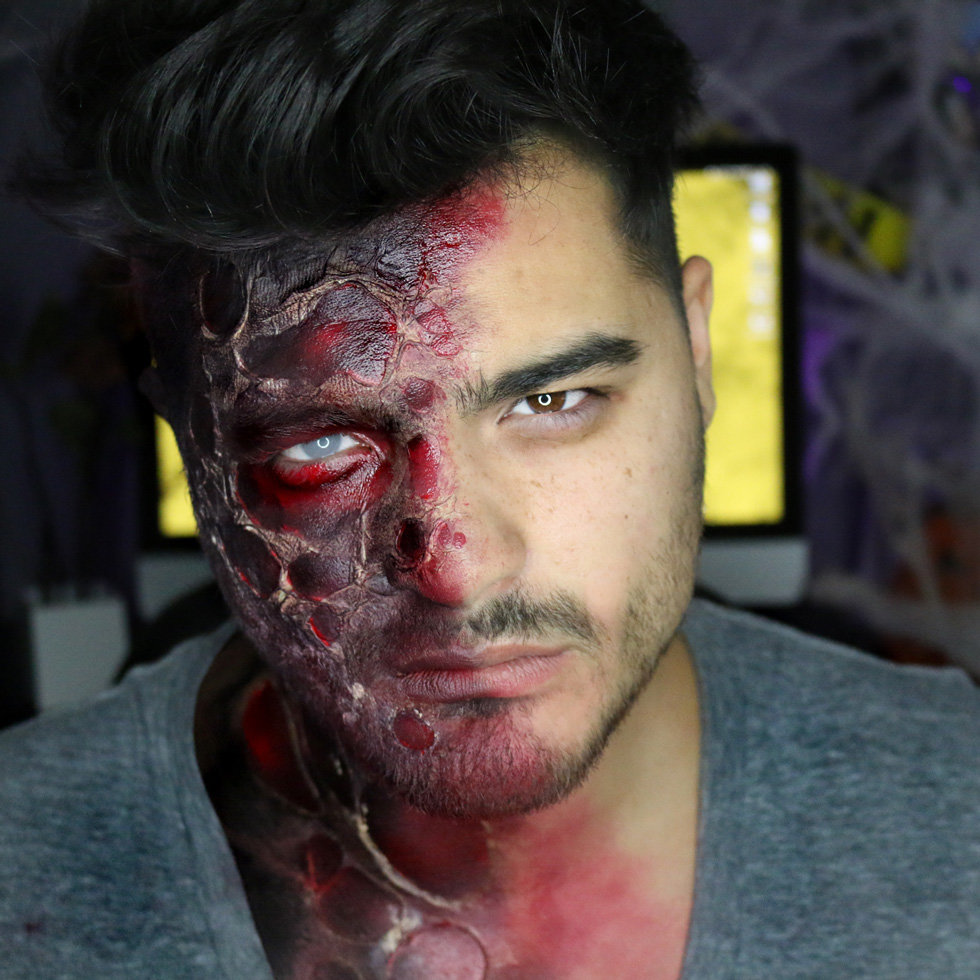 Watch Alex Faction's Burn Victim tutorial
How does it feel to see people recreating your Halloween looks?
It's the coolest thing ever. When I see people enjoying a look so much that they're putting it on their face, I can get choked up. Last year for Halloween I went to Los Angeles, and I saw someone walking down the street in West Hollywood with my makeup on. It was crazy! They didn't even know me; they probably just grabbed the tutorial from the front page of YouTube. It's a really cool moment, when I get to see people enjoying their Halloween with something that I created.
Are you doing anything fun for Halloween?
I don't really know what my Halloween plans are yet! I really want to have my own Halloween, but it's been very difficult because everyone wants their makeup done. I'm currently in negotiations with a celebrity whose makeup I might fly out to do, so that might end up being my Halloween!
Check out more Halloween makeup tutorials from Alex Faction on his YouTube channel here.
---
View Original Article