As beauty editors, one of our favorite things about summer is watching the season's new collections roll in. What's one launch that we (and basically everyone else on the internet) are particularly hyped on? The upcoming Jeffree Star Summer 2018 Collection.
Jeffree took to YouTube to reveal his newest collection, including the Thirsty Palette, a blindingly bright eye shadow palette that's already making waves among beauty fans. Everything in the collection features creamsicle-colored packaging and is—you guessed it—limited edition.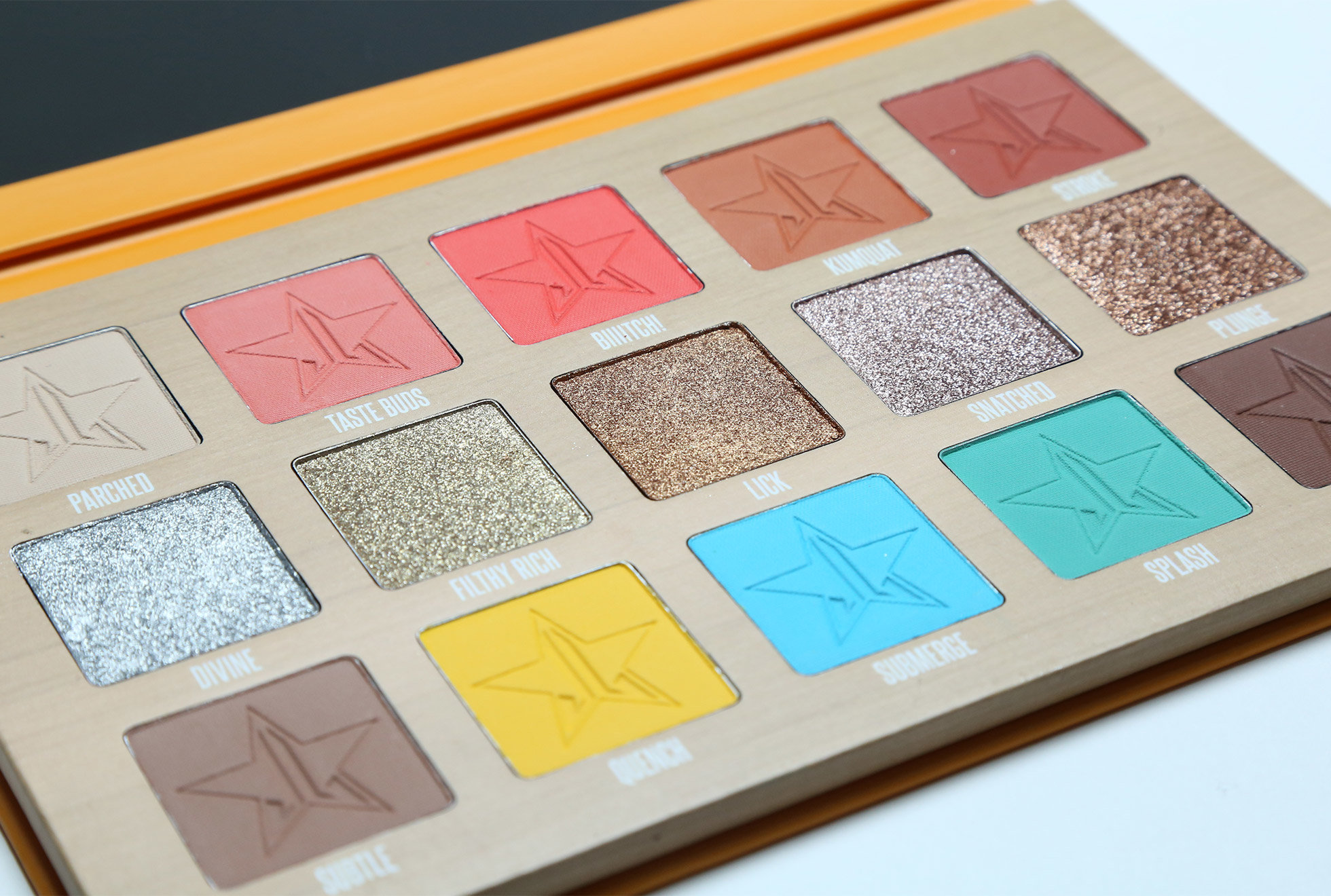 The limited edition Thirsty Palette comes with fifteen shades of eye shadow, including a reformulated matte finish with less fallout and a new ultra-metallic formula:
Parched: matte fair beige
Tastebuds: matte baby coral
Bitch: matte flamingo pink
Kumquat: matte bright orange
Stroke: matte terracotta
Divine: metallic silver
Filthy Rich: metallic gold
Lick: metallic topaz
Snatch: metallic pink champagne
Plunge: metallic copper
Subtle: medium cool-toned brown
Quench: matte bright yellow
Submerge: matte bright blue
Splash: matte aquamarine
Drizzle: matte warm chocolate brown
The Summer 2018 Collection also features 8 new limited edition shades Velour Liquid Lipstick shades:
Thirst Trap: metallic champagne beige
(818): pastel neon coral
Soft Serve: peachy nude
Huntington Beach: bright teal
Yummy: metallic orange glitter
Fudge Pop: metallic brown
Cherry Wet: bright fuschia red
Coral Fixation: hot coral

Plus Velour Lip Scrubs in perfect-for-summer flavors:
---
Grape Soda
Orange Gummy Bear
Rainbow Sherbet
Pink Lemonade
You can shop the Thirsty Palette and the rest of Jeffree Star's Summer 2018 Collection at Beautylish on June 16th, 2018. The Summer Collection will launch at 10am PST / 1pm EST. Sign up to get notified when the collection drops.

Don't forget you'll enjoy free shipping in the US, UK and Canada when you spend $35 USD or more on Jeffree's Summer Collection. (international free shipping may vary by country)
---
View Original Article