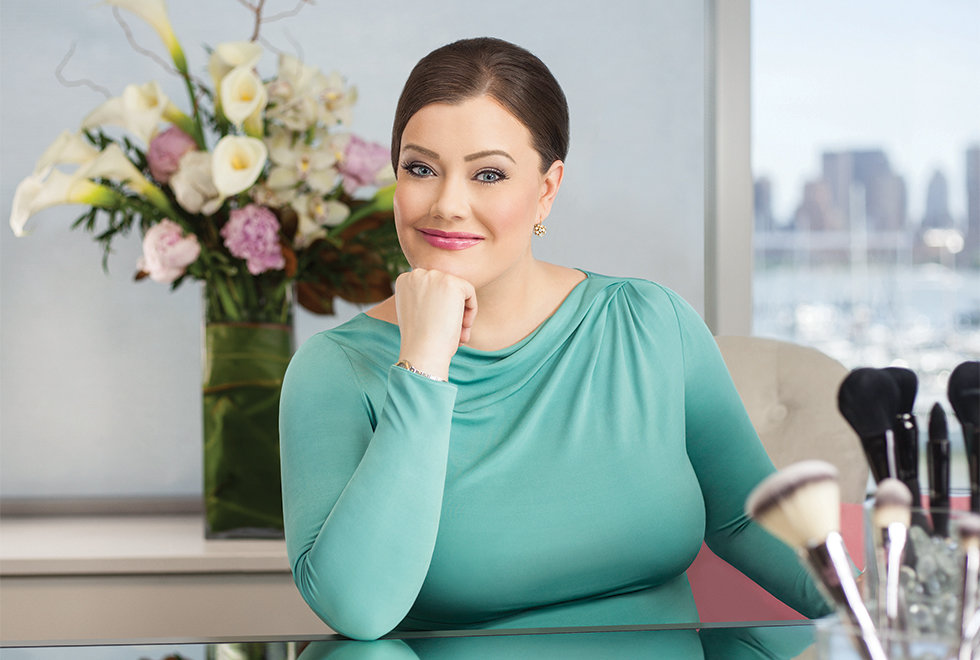 We bet you've done it: daydreamed about quitting your day job to work on a passion project that brings you fame, fortune and the worship of millions. Then, in the middle of your reverie, your calendar alert snaps you back to reality. You're late for your 2 o'clock. But the fantasy lingers. What would it be like to become your own boss, the head of your dream company?

Ask award-winning beauty'preneur and founder of IT Cosmetics Jamie Kern Lima, and she may suggest that once your daydream becomes a reality, you don't get much sleep.
It's 8am on a warm Friday in June, on the 3rd floor of a nondescript office building nestled along Jersey City's waterfront, where IT Cosmetics thrives in reality: suite of cubicles, cubbies, kiosks, displays, boxes, and busy-ness. Sitting down in a large glass conference room was the original "IT Girl" herself, giving us few moments of rare free time to talk candidly about how she went from broadcast journalist to makeup mogul.
"I was spending my career anchoring the morning news, then I'd have to cover [everything from] 'crisis in the classroom' to murders. It wasn't fulfilling in the way I expected," the poised and joyfully energized Jamie explains. "I knew after a few years, God didn't put me on this earth to report crime for ratings. It didn't speak to my soul."
Jamie admits she spent excessive time and money in search of makeup and beauty products that met her unique challenges and helped her look good in front of the often unforgiving HD television cameras. After developing severe rosacea and enduring newscast mishaps (like accidentally wiping away her penciled eyebrow on-air), she needed products that worked. "I didn't really feel like there was a brand that was offering solutions in a way that worked. There are some brands that are very fun about it, but not in ways that solve problems."

With creating those real solutions as her mission, Jamie partnered with a team of plastic surgeons and dermatologists and in 2008, IT Cosmetics was born. Jamie and her team were engaging Korean labs long before the cosmetic industry's love affair with the Korean beauty scene. They formulated their CC cream in Korea, for instance, "because of how they were able to get a physical sunscreen and full coverage into a product that starts its life as an anti-aging serum and moisturizer. I now hear daily from customers who say this product has completely transformed their skin." Jamie reveals. "I have to feel like the product solves a problem in a better way. If it doesn't, we won't launch it."
It's also Jamie's refreshing vulnerability and transparency as the face of IT Cosmetics that has won her a devoted following, especially on QVC. Prior to IT's launch on the network, cosmetic brands were known for showcasing "after" looks with models who had near-flawless skin. Jamie changed the game on the channel by revealing her own thinning brows and rosacea live, on-air, to help demonstrate her product's effectiveness.
Now, with over 250 appearances on QVC per year, Jamie and her legion of "IT girls" with real skin problems are baring it all, around the clock. Jamie adds, "It's something bigger than ourselves. I think there are millions of women out there … who are used to seeing an image of perfection and not used to seeing women who have the same issues they do."
As for what's next, fans can look forward to the expansion of IT Cosmetics products to include an even greater variety of shades and the launch of IT's new on-air infomercial. The original "IT Girl" herself is also not planning on slowing down any time soon. "I've always thought I worked hard. But I never knew how hard running a business would be," she said, smiling. "You are your brand and you never stop thinking about how to make sure you're making products in the right way."
Our conversation was coming to a close and Jamie's assistants poked their heads in to remind her of upcoming commitments. But there was one last thing the IT Girl was eager to share with us. We headed up to the fifth floor to see IT's new home, under construction — a space big enough to house the young brand's quickly-multiplying staff and abundant possibilities. Though the space very much in progress, we could tell by Jamie's face that she saw everything as if it were already complete — as if she daydreamed it, all those years ago.
---
View Original Article