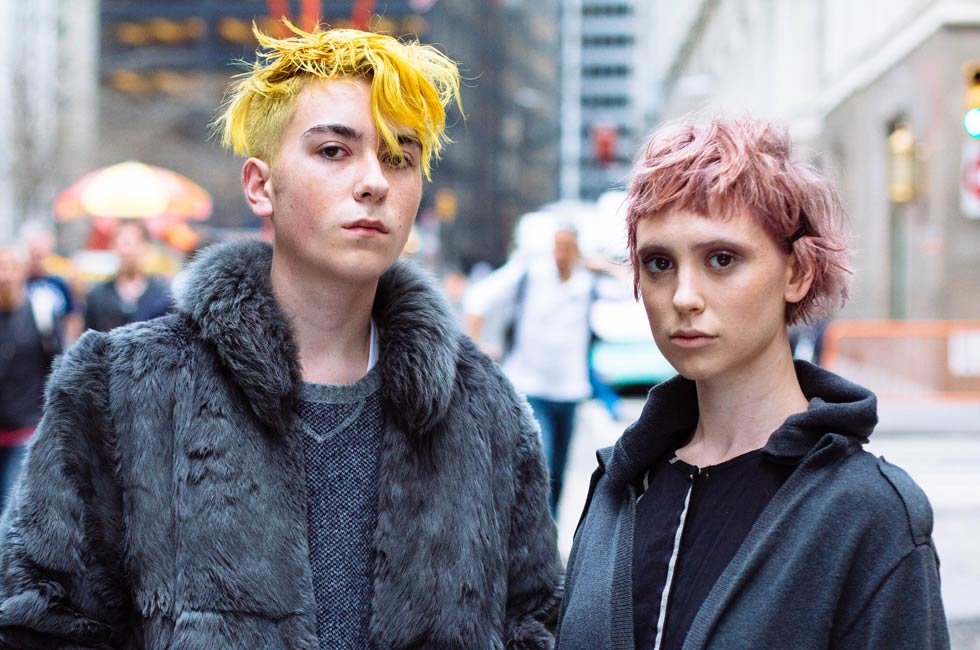 This is the final part of our hair color series, and we couldn't end it without looking at the big, colorful world of temporary dyes. With rainbow shades being an ever growing trend with beauty daredevils of all ages, it's time we break down the basics of temporary hair dye and open readers up to the possibility if this versatile color option. We spoke with Hairstory Studio's expert colorist Roxie Darling on the pros, cons, tips, and tricks behind temporary dye.
How does temporary dye work?
"Temporary dye is a semi permanent color which means it lays on top of the hair cuticle instead of penetrating it," explains Roxie. "There's no real chemical involved in the process, making it the simplest way of coloring hair." Temporary dyes work best on pre-lightened hair, for good reason. Darling explains that if your hair is bleached white, the result is usually going to look as saturated as it looks in the bottle. But, "if your hair is bleached yellow or is a natural shade of blonde or brown, you have to consider color theory to predict what the shade will look like over top." It's true—a bright blue dye will look vivid on white lightened hair, but the yellow tones in a brassy blonde will turn that sapphire shade green.
What's the method for maintaining temporary hair color?
Because this dye only sits on top of the hair cuticle, it also fades the fastest. Though frequent touch ups are inevitable with this fleeting dye option, Roxie has a few pointers. "Don't wash your hair. Let it get dirty and invest in some hair powder to ward off the grease. Heat from an iron is another way to dissipate the artificial pigment that you put into the hair. The more you touch it with styling products that contain alcohol or hot styling tools, the faster it's going to fade. It's a double edged sword because you want to maintain but you also want to keep it looking cute." No matter how many precautions you take, we suggest always having a new jar of dye on hand to nip fading strands in the bud.
What are some unexpected uses for temporary hair dye?
We love mixing and diluting rainbow dyes with conditioner to get custom pastel shades, but Roxie suggests adding a few dollops to your weekly shampoo or conditioner, even if you don't have crazy colored hair. "Adding a temporary dye to a cleanser can help maintain certain tones like peach or gold in your hair" says Roxie. We suggest discussing what undertones you'd like to bring out in your strands with your colorist who can guide you toward a red, purple, or yellow dye that might enhance your natural color over time.
Is it worth a salon visit for a temporary dye job?
"If it's your first time with a crazy color and you're feeling nervous, then yes, go to the salon," Roxie advises. "A colorist can teach you how to properly touch it up at home after your visit. I even give clients custom mixes of temporary dye to take home to maintain their color. It's worth it to go to the salon the first time around to get tips from your colorist about how to maintain the dye at home." However, Roxie agrees there's magic in a home dye job. "One of my biggest inspirations is people that dye their own hair. When you go into hair coloring blindly, magical things happen." The key to any temporary dye job is to be fearless and have fun. And if it doesn't look the way you had hoped, fear not—it will wash away before you know it.
---
View Original Article