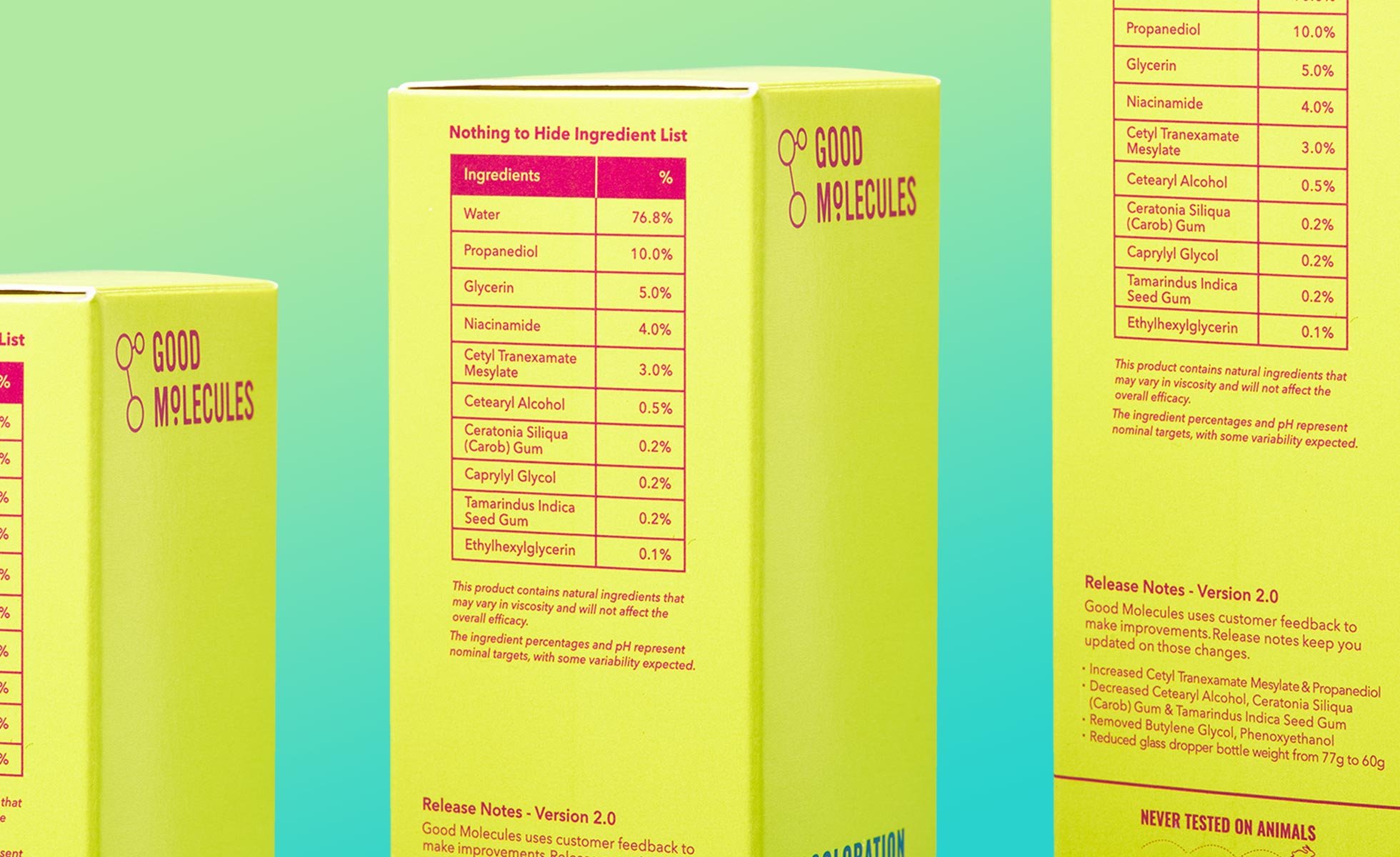 Good Molecules' $12 cult favorite features new improvements powered by customer feedback.
Targeting hyperpigmentation and uneven skin tone, Discoloration Correcting Serum visibly improves the appearance of acne scars, dark spots, sun damage, and melasma. If you already consider this serum a staple in your skincare routine, just wait until you get your hands on the improved formula.
You asked for more rapid results, and Good Molecules responded with an updated Discoloration Correcting Serum that quickly absorbs into skin to provide the same great outcome–but faster. You can thank a higher concentration of the serum's key ingredient for that.
Good Molecules has always remained transparent regarding ingredients and revised releases. We recently caught up with Good Molecules Product Development Manager Amy Youssefian for more details on what enhancements you can expect and how your skin will benefit.
Discover how the Discoloration Correcting Serum version 2.0 has become more clean and eco-friendly. Plus, find out how feedback from customers helped evolve this cult classic.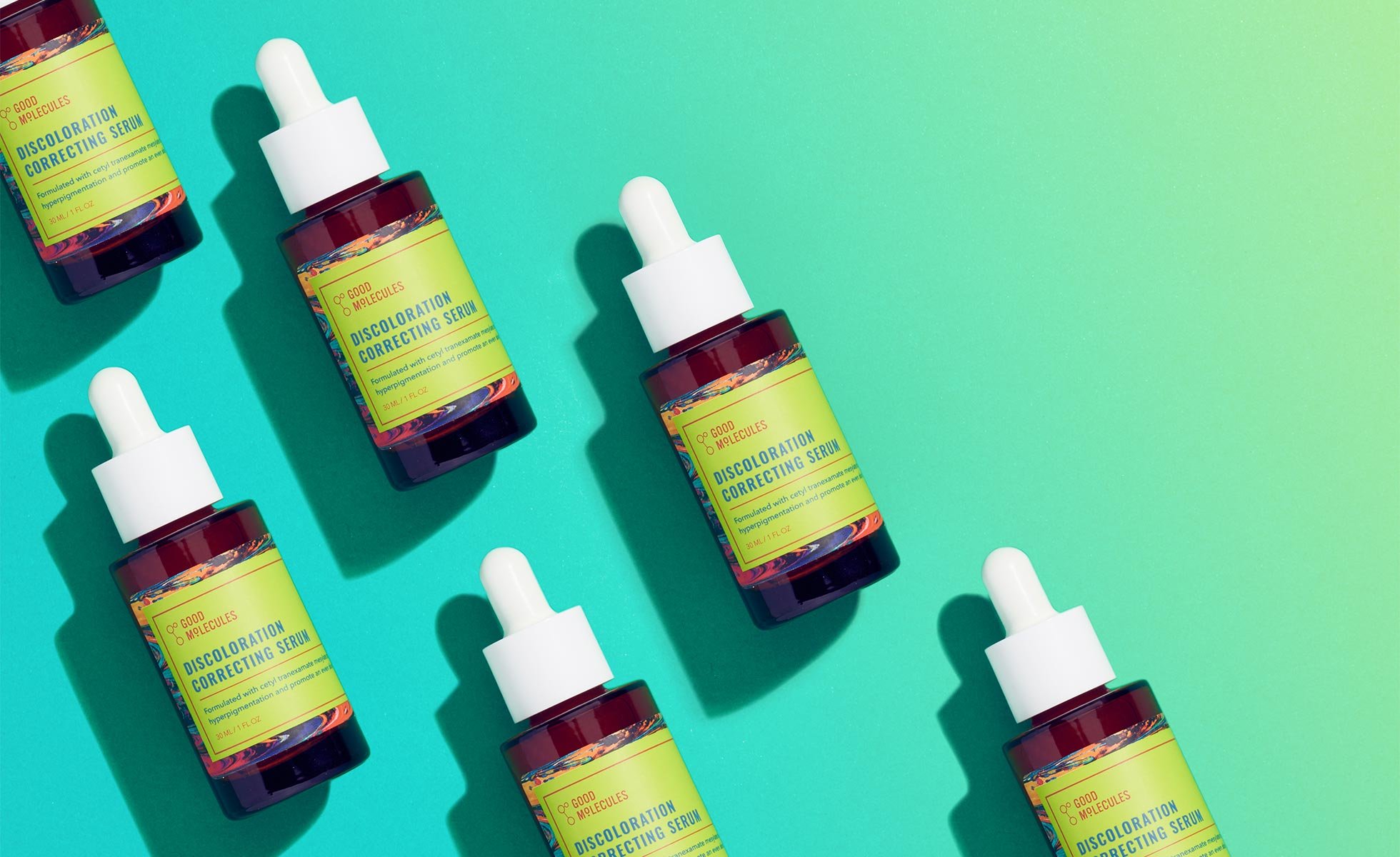 What feedback did you use from customers to make these product changes?
Feedback generally for the Discoloration Correcting Serum has always been great; however, customers seemed to want to see results a bit faster. We believe increasing the key ingredient (cetyl tranxemate mesylate) would provide customers with this result.
Compared to the last formula, what is your best estimate for the time it will take to see desired results with updated serum use?
Results are best seen with daily use for 4-6 weeks, but vary depending on your unique skin type.
What is cetyl tranexamate mesylate?
Cetyl tranexamate mesylate is a derivative of tranexamic acid, which inhibits melanin production in the skin. This results in skin brightening, and it can also help fade existing skin discoloration that might be caused by sun exposure.
Why did you also increase the levels of propanediol in the formula?
Propadendiol is used as a safe humectant and emollient for the skin. It helps dissolve other ingredients and allows for skin to absorb the ingredients faster and easier.
How did customer feedback impact your decision to remove butylene glycol and phenoxyethanol?
We saw the direction of clean beauty and decided to remove these two ingredients. A few customers voiced concerns regarding pheneoxyethanol. Although it's still a very safe preservative, there are others that are similar and clean (both in the end ingredient and in manufacturing).
Why did you reduce the glass dropper bottle weight from 77g to 60g?
We made the decision to reduce our glass to create a lower impact on the environment. Glass production can be carbon emission heavy.
Do you think Good Molecules is paving the way for other skincare companies by remaining transparent about formula changes?
Good Molecules has always believed that transparency with our formula leads to informed decisions by customers. Customers armed with ample information can make the right decision for their skin. We hope to normalize transparency in formulas because there are a lot of methods to mislead customers in the skincare industry. We have already started seeing formula explanations similar to our "Nothing to Hide" in other brands popping up, and this excites us!
Shop Good Molecules Discoloration Correcting Serum version 2.0 on Beautylish.
---
View Original Article