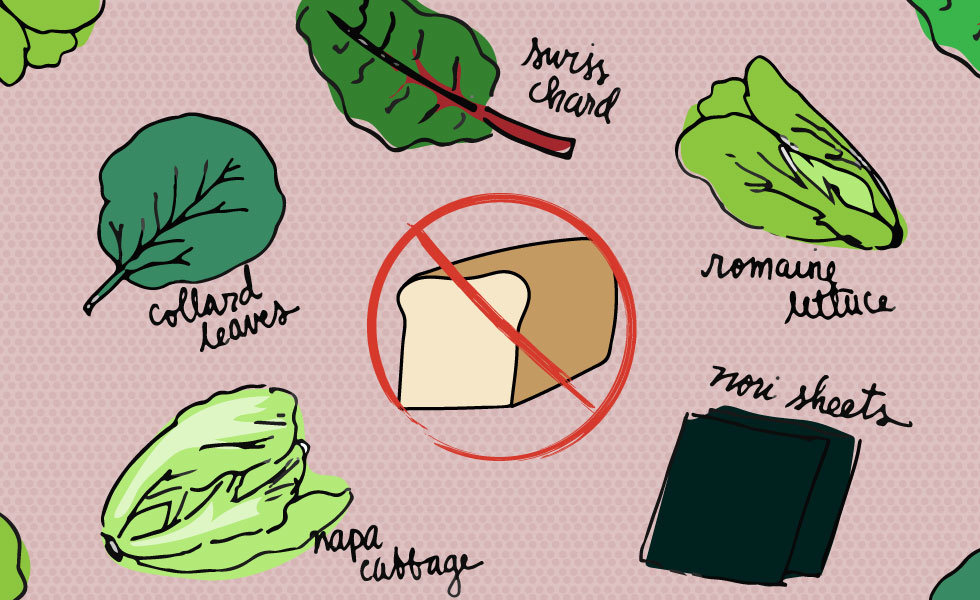 Whether you're gluten free or playing up your eating-for-gorgeousness game, skipping bread much of the time can be a big step toward looking and feeling super bright. Here are some exciting perks of going bread-free, plus options so delicious and easy that you'll forget you ever relied on the traditional sandwich for your daily "bread".
Enhanced Digestion
Processed wheat flour used in typical American bread can cause inflammation, triggering pimples and redness on the skin as well as digestive challenges. The difficult combination of bread's quick-digesting carbohydrates with protein-based sandwich ingredients contributes to the afternoon sleepy slump as well as bloating. Happy digestion from simple food combinations and unprocessed ingredients, on the other hand, equals clear skin and consistent energy!
Bread Alternatives
When thinking outside the breadbox tasty alternate sandwich wrappers come to mind. Swiss chard, tender Napa cabbage, and collard leaves are nature's easy traveling (and easily stuffed) wraps. Nori sheets, the yummy seaweed used in sushi, can be rolled into cones and stuffed with miso-veggies and brown rice. Romaine lettuce is another great option; assemble just before serving to avoid sogginess.
Filling Ideas
The idea is to create a roll or burrito. Stuff with your favorite filling; a few of mine include guacamole, sweet potato, nut butter, hummus or fish. Add plenty of raw veggies such as shredded carrot, cucumber or red pepper slivers, sprouts, and baby spinach; consider a splash of salsa or dollop of olive tapenade for a flavor spike.
Better Options if you Want Bread
If you have your heart set on bread, higher quality choices are yeast-free whole grain sourdough, sprouted, and gluten-free as well as sprouted tortillas. Though best not eaten every day, they offer whole food nutrition and better digestibility than their preservative-filled and bleached counterparts. Sleuth out food labels, looking for organic, sprouted whole grain, and yeast-free, avoid preservatives and bleached or unbleached white flour.
Salmon-Avocado Collard Rolls
I appreciate the vitality boost from eating wild-caught fish on occasion. Salmon and avocado are a sumptuous contrast to lively veggie fillings. The raw collard leaf wrapping is crunchy and sweet—it can also be lightly steamed. Leave out the salmon and step up the avocado for a vegan version. Makes 4 rolls.
½ pound wild-caught salmon (canned wild salmon can work if fresh is not available)
1" piece of fresh ginger, grated (optional)
1 green onion, chopped
1 avocado
1 teaspoon or more dulse flakes
½ teaspoon wheat-free tamari
2 loosely packed cups baby spinach or sunflower sprouts
1 cup of thinly sliced cucumber, red pepper, or celery
Lemon wedge
4 medium-sized collard leaves, stems and thickest part of center vein removed
In a sauté pan, poach the salmon with optional ginger in 1 inch of water for approximately 2 minutes on each side, until cooked. Let cool briefly, remove any bones, flake the salmon and mash gently with the avocado, green onion, dulse flakes, and tamari. Place salmon mixture at the bottom of each collard green, top with spinach/sprouts, veggies, and a squeeze of lemon. Roll up like a burrito then pack it to go or slice in half and serve. Eat with love!
---
View Original Article