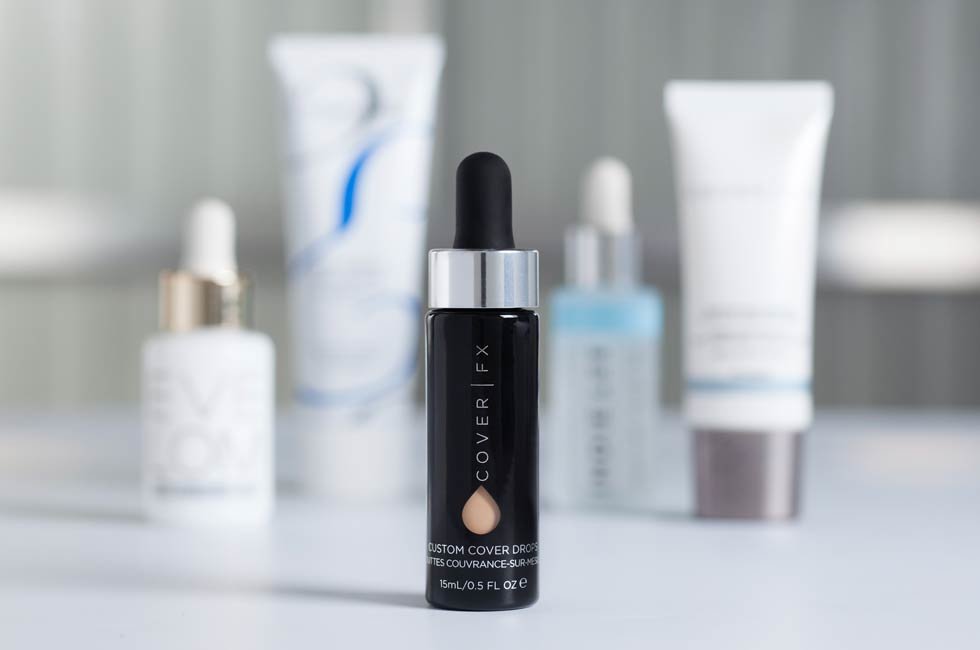 Sometimes I wish I could snap my fingers and instantly change the color of all my favorite things to whatever shade suited me most. While I can't alter the colors of my best dresses, or re-tint my yummiest lipstick to suit my mood, Color FX has now made it possible to turn almost any skin product into a custom foundation.
No it isn't witch craft, and it doesn't even require a visit to a makeup mixology counter. Color FX's new Custom Color Drops are pure liquid pigments available in 25 blendable shades designed specifically to mix with any water, oil, or silicone-based liquid or cream formulas. This means that most of the daily pre-foundation products you use can be converted to foundation while you still reap their benefits. Likewise, Custom Color Drops can also be added to your coverup products to boost their strength, even out their hue, and extend their life.
How it works: Each drop of Custom Color increases the coverage of your carrier product so experiment until you find the right blend. A pigmented foundation will require fewer drops than a sheer moisturizer. The actual color pigments present in Custom Color Drops are coated in lecithin which is a moisture-rich substance found naturally in our cells. This allows the pigment to not only adhere to our skin, but leave it feeling soft, and never dry. Because the pigment is made up of similar oils as those found in our skin, it doesn't interfere with carrier products such as lotions, oils, and creams.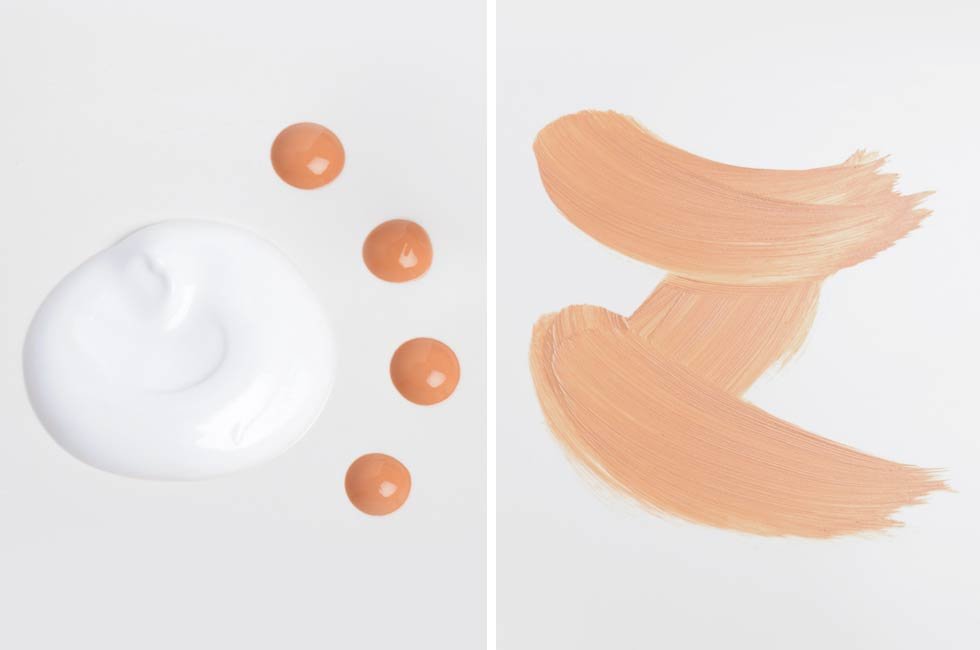 But is there anything Custom Color Drops can't mix with? Most skin products are water, oil, or silicon based, which means unless you're attempting to blend with a powder, you can bet you'll yield good results.
Need ideas? Look below. We experimented with just about everything we could think of!
Moisturizer
Who needs to buy a tinted moisturizerwhen you can create your own! Blend a portion of your favorite face lotion with a few drops of Custom Color before applying for a lightweight formula that evens out skintone while hydrating. Need more coverage? Try increasing the amount of Custom Color Drops before applying moisturizer to problem areas.
Serum
If the lightest coverage is something you've yet to find in foundation, Custom Color Drops can help. Add a few to bring pigment to something as simple as afacial serum. You'll still absorb all the benefits of the formula but your skin tone will appear more even and extra radiant.
BB Cream
Mix Custom Color Drops right into your go to bb creamto more accurately match the shade to your skin—hello customizable coverage boost!
Primer
Most pore refining facial primers are non pigmented, but we can change that. A few drops can make any primer double as both your makeup base and your base makeup. A perfect oil-reducing option for warmer weather, we found this to create especially silky results.
Facial Oil
If your battle with dry skin has you shying away from tinted facial products, fear not. Custom Color Drops can even be added to facial and body oil for a cover-up option that has you glowing, not flaking. Try mixing a shade deeper for an arm and leg bronzing effect.
Foundation
Love yourfoundationformula but need more coverage in certain areas? Add a couple drops to strengthen your cover-up game, or simply personalize the shade. As a bonus, adding pigment will actually lengthen the life of your favorite face makeup, making a tube last up to ⅓ longer.
Concealer
So manyconcealeroptions only come in a few dozen colors. A drop of Custom Color can bring a light shade closer to your skin tone, and even increase the pigment in your product. Plus the liquid base of Custom Color Drops will create a creamier consistency.
Body Lotion
Big night out and too hot for stockings? Blend a good amount of Custom Color Drops directly into your favorite body lotionand watch it change to the creamiest foundation you've ever seen. You'll be getting the hydration and fragrance you love, with a non-obvious color mask to hide light discoloration, shave marks, or even boost a tan.
---
View Original Article