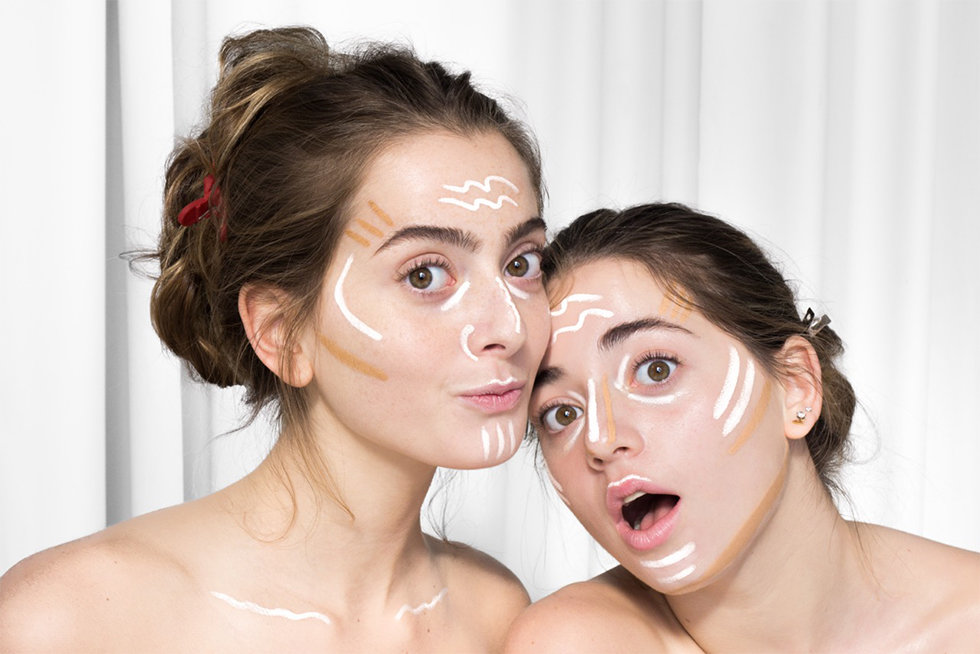 We all do it—blend makeup with our fingers when we're in a hurry instead of using brushes. So makeup that's designed to be blended with your fingers? Sign us up! We're in love with everything in the Nudestix line—it's all made to be applied on the go and blended with fingers. Recently, Nudestix came out with something genius: idiot-proof contouring pencils.
The Nudestix Sculpting Pencil is a chubby, dual-ended, matte cream sculpting pencil designed to bring out your best features. These smooth-gliding, easy-to-use pencils have a highlighting shade with no glitter or even subtle shimmer on one end (hallelujah), and a contouring shade designed to chisel your face on the other. If you're new to (or just confused by) contouring, this is the product for you.
How to use:
Starting with the Highlight side, just start swiping! If you can write with a pencil, you can contour. Draw stripes on the high points (the parts that are most exposed) of your face, so: draw a stripe down the bridge of your nose, a few lines horizontally across your forehead, and a stripe across both of your upper cheekbones. Use the pencil to highlight the bow of your upper lip and your chin. Smudge in all the stripes with your fingers, with light, upwards strokes.
Tip: You can use the Highlight shade as concealer, too—swipe it under your eyes to draw light to dark circles, or dot it on to correct redness or discoloration anywhere else on your face. Put a dot on the inner corners of your eyes to look more awake, and you're highlighted!
Next, take the darker Contour shade and draw a few stripes on each of your temples. Swipe a line underneath your cheekbones (if you're not sure where that is, suck in your cheeks and draw an upwards line from the hollows towards the apples of your cheeks.) Outline the entire length of your jaw, then blend in all the lines with your fingers using downwards strokes. Look at that: insta-cheekbones!
That's all that contouring is, really—just a way of highlighting and sculpting your actual bone structure. It doesn't have to be insanely complicated or involve 7 separate brushes! And the Nudestix pencil form makes this easy—if you're going on a trip, you could toss it in your carry on and leave the heavy contouring equipment at home. Or heck, tuck it in your pocket and contour in the backseat of a cab. Contouring: psssh, you got this.
---
View Original Article