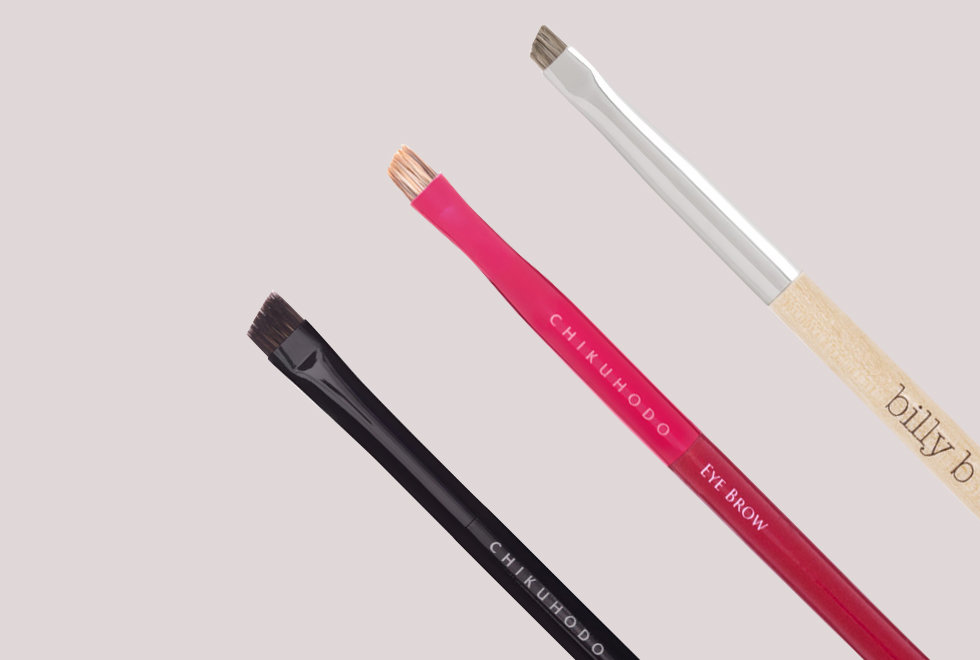 They may be sold with a single purpose in mind, but each style of makeup brush has more uses than you might think! In this series, we will examine some of the most common brush styles and discover all the surprising things each one can accomplish. Today we're looking at:
The Small Angle Brush
The small angle brush is stiff and precise, made for creating both sharp, fine lines and wider striping. Similar in shape to a lip brush, it reaches hard-to-access areas like the lower lash line. It's also a useful tool in creating wing shapes.
Here are some of our favorite uses for the small angle brush:
Eyebrows
It's generally billed as a brow brush, and for good reason– this brush shape handles every aspect of brow definition. The fine angle of the bristles provides a clean outline and offers a realistic effect when used to create the illusion of individual brow hairs. To fill in the inner brow in a sweeping motion, use the brush flat with the angle pointed downward.
Winged Eye Liner
Used with a potted liner, wet shadow, or a combination of eyeliner mixing medium and pigment blend, this brush is fabulous at creating dramatic winged eyeliner looks. Dip the tip of the brush in the desired lining formula (you can even sweep it over the tip of a soft eye pencil to pick up a lining color) and, with the long side facing the inner eye, drag it along your lid for a clean sharp line. Using the long end of the brush, you can draw that sharp point of a winged eye.
Extreme Lip Shapes
Looking to create unusual lip shapes that involve over and underdrawing? This brush is a great choice. You'll be able to make cleaner lines along and over the bow of the lip and then fill in with lip color using the brush's flat end. This is especially great for pointy and more geometric lip shape concepts.
Lower Lash Liner
This is a tricky area given the downward direction most lower lashes grow. The pointed angle of this brush makes it easier to reach directly beneath the lashes without creating a mess in the process. For defined lower lid lines and shadow, this brush will work wonders. It's even great for retro hand-drawn lower lash styles à la Twiggy.
Abstract Illustration
Want to create geometric painted shapes or shade your cut crease like a pro? For more conceptual and editorial looks, this brush may well be your best bet. The unwavering shape will guarantee an ultra-crisp straight line anywhere you choose to draw, and the wide area will blend and fill in color for detailed work. If you've been wanting to be Ziggy Stardust, the small angle brush is your best "bolt".
---
View Original Article