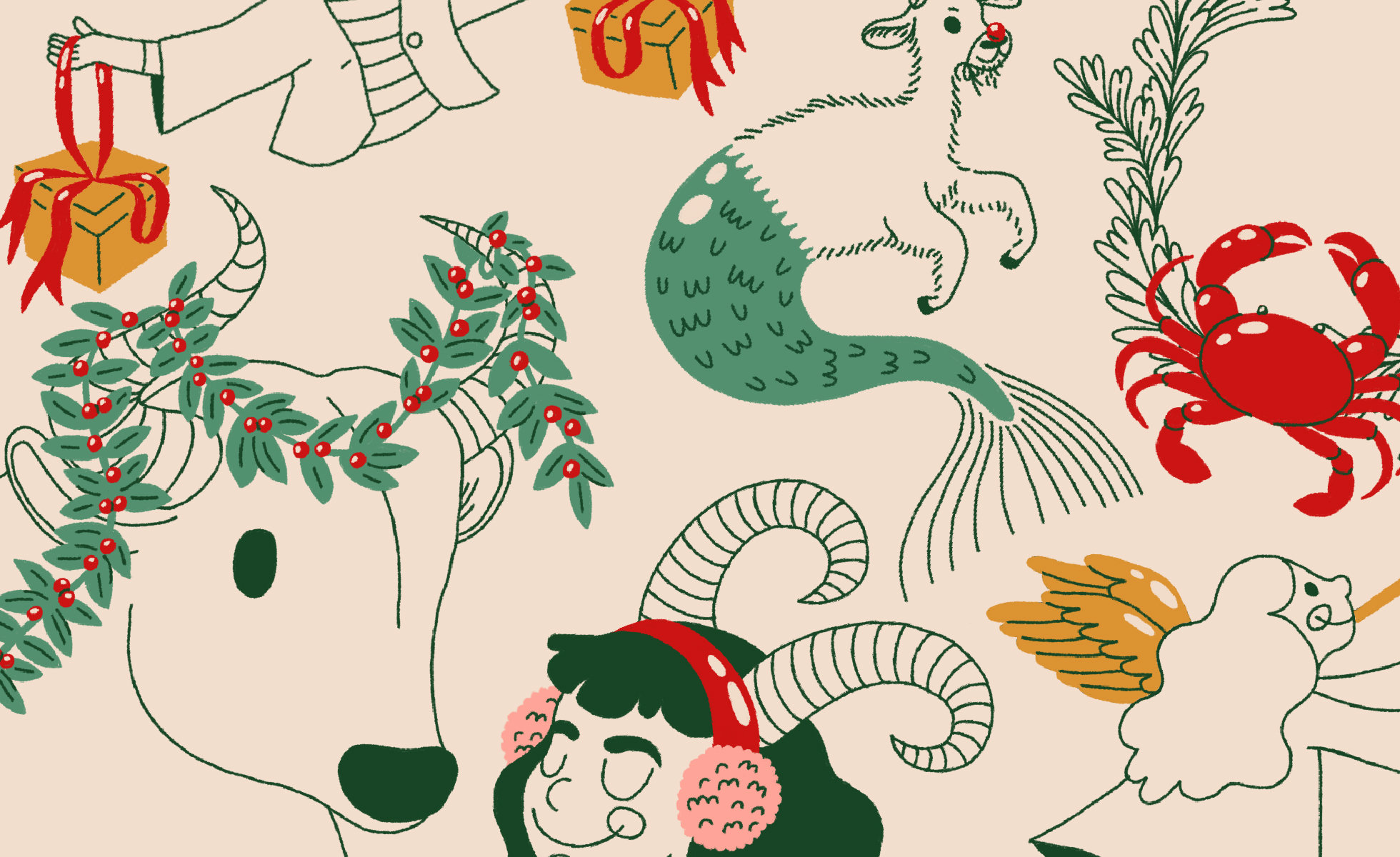 There's no time like the present to get ahead on holiday shopping for the most wonderful time of the year. This season, shop for your loved ones from the comfort of your couch with this personalized gift guide based on zodiac signs.
Capricorn

It's no question that hard working Caps dominate in all realms, and beauty is no exception. The sea goat always goes for quality and practicality over quantity, so make sure that you give these earth signs a luxurious gift that fits every occasion. Charlotte Tilbury Pillow Talk On the Go features a full-size Pillow Talk Color Chameleon pencil, travel-size Pillow Talk Lip Cheat, Matte Revolution Lipstick, and Pillow Talk Push Up Lashes Mascara, so Capricorns can create polished looks as they conquer their busy schedules.
---
Aquarius:

Aquarians have a treasure trove of brilliant ideas that shatter expectations. This year, give the water bearer a jewel-inspired collection of satin-metallic, duochrome pigments that are sure to further ignite the air sign's visionary perspective. They'll love applying the mesmerizing shadow shades included in the light-refracting Étendu Palette by Viseart.
---
Pisces:

This holiday season, give imaginative Pisceans the brush set of their dreams: a fluffy collection of feather-soft bristles. Housed in a crimson velvet clutch, this mini brush collection from Charlotte Tilbury is the perfect update to any beauty arsenal. The artistic water sign will love buffing, sculpting, and highlighting--with ethereal results.
---
Aries:

The courageous Aries isn't afraid to take the lead—they know what they want and won't settle for less. This holiday season, give the fiery ram a gift that will light up their beauty bag with bold color. Kjaer Weis The Holiday Collective delivers award-winning eye shadows and lip tint within a bright red case for a scorching lineup of shades sure to match this fire sign's confidence.
---
Taurus:

Taurus is the unofficial foodie of the zodiac. If there's dessert involved, your Taurean friends will show up ready to dig in, so give this earth sign a gift that resembles a classic sweet treat. Beautyblender's Signature Blend Essentials Set houses a 5-piece selection of Beautyblender essentials within packaging that resembles a pint of ice cream. Plus, one of the beautyblenders comes in a limited edition Tiramisu color with a holder that looks like an ice cream cone!
---
Gemini:

Represented by the twins, Gemini is known for having two competing energies. This holiday season, give these unapologetic air signs a gift that personifies their unique duality with T3's Airebrush Duo. The Gemini in your life will love the interchangeable brush design with two attachments and 15 heat and speed combinations for every hair type and texture.
---
Cancer:

Cancers have a soft spot for the holiday season's cozy vibes, but after December they'll be counting down the days until summertime. This year, give cardinal water signs a beauty gift that'll get them through the winter. Briogeo's Tropical Hair-adise gives Cancers all the tools needed to create beachy waves as they patiently await sunnier skies. The set includes Banana + Coconut Soft Wave Texture Spray, Shampoo, and Conditioner for protected, nourished, and fortified hair.
---
Leo:

Most likely, the Leo in your life already has a full arsenal of beauty goodies, so it can be challenging to pick out a gift that'll generate a rip-roaring reaction. This year, give the lion a limited edition set that'll give them some much-needed rest and relaxation—constant attention can be tiring! This set by Susanne Kaufmann includes the best-selling Oil Bath For the Senses, Witch Hazel Bath, and the brand new Mountain Pine Bath Oil to relieve muscle tension, soothe the senses, and nourish skin.
---
Virgo:

Virgos go above and beyond to ensure the best outcome in all tasks—even makeup application. Surprise high-achieving Virgos with Kevyn Aucoin's Lights Up Sculpt & Blush Duo Mini Ornament, so they can enjoy a collection of radiance-inducing face products for the perfect, snatched look.
---
Libra:

Libra's charismatic personality attracts more friends than they can keep track of, so make sure that your holiday gift truly stands out from the rest. The Oribe Gold Lust Collection reawakens hair to its glossiest, healthiest state with Gold Lust Repair & Restore Shampoo, Gold Lust Repair & Restore Conditioner, and Gold Lust Nourishing Hair Oil. And the decorative designs by Antoinette Poisson will encourage these air signs to keep the packaging long after the products are gone.
---
Scorpio:

Scorpios are perceptive, wise, and intense. It's only fitting that you give these water signs a powerful gift that symbolizes their invigorating strength. Peter Thomas Roth's Hydration Celebration offers Water Drench Hyaluronic Cloud Cream and Cucumber De-Tox Hydra-Gel Eye Patches to replenish skin with a wave of hydration for extra radiance.
---
Sagittarius:

As the travelers of the zodiac, Sagittarius is constantly pushing geographical boundaries to stimulate their senses and gain new life experiences. This year, give your excitement-seeking friend an eye shadow collection that's inspired by adventure. The Mini Metropolis Palette lets Sagittarians navigate through a concrete jungle of color with three bestselling shades from the Metropolis Palette and two brand new hues inspired by New York City.
---
Illustrations by Megan Badilla
---
View Original Article