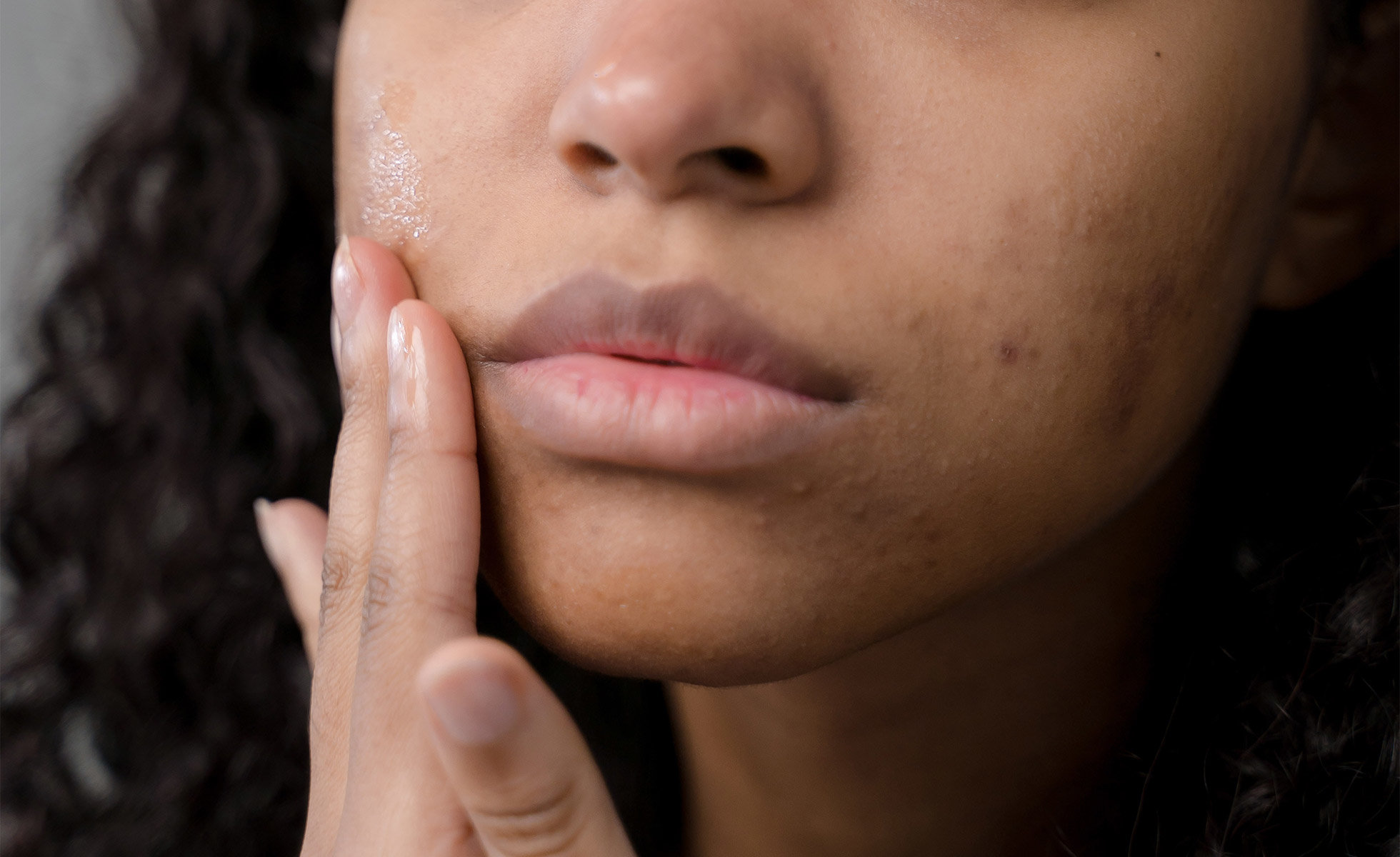 Unless you've been blessed with completely immaculate skin, you may have experienced acne at least once in your life—as well as the scars that can be left in its wake. Some scars can look cool and even add character, but most people find acne scars to be an annoying reminder of their breakouts. Post-acne hyperpigmentation can come in different sizes, shapes, and shades, depending on the type of acne and how the person's skin reacts. Different things can lead to obvious scarring such as picking at pimples and even exposure to sunlight. Ahead, learn how to handle acne scars—from how to fade and conceal them to how to prevent them from happening in the first place. Plus some product recs!
---
Fade acne scars with brightening ingredients

Once an active pimple or blemish has diminished—and left a scar behind—you can incorporate products into your routine to help fade discoloration. Vitamin C, niacinamide, and tranexamic acid all have shown to help reduce melanin overproduction, which is the root cause of acne scars and hyperpigmentation, according to clinical research. If acne scars and general uneven skin tone are a concern, it may be worthwhile to incorporate these ingredients into your everyday routine.
Try: Good Molecules Blemish Scar & Discoloration Duo
---
Prevent acne scars with SPF

The most surefire way to keep acne scars from showing up in full force after a breakout? Wearing sunscreen. Hyperpigmentation can be worsened by exposure to UV rays, which are known to trigger melanin production in the skin. Though it may not be possible to completely avoid acne scars, wearing daily SPF can go a long way in making them less visible.
---
Prep skin for concealer

It's much easier to apply concealer to acne scars with a smooth, well-hydrated canvas. Even if you're still dealing with pimples and breakouts, properly hydrated skin is key. Find a moisturizer that works for your skin type and apply it before concealer, allowing a few minutes for it to fully sink in. If uneven skin texture is a concern, you may want to consider a smoothing primer to help fill in pores and deeper acne scars.
Try: NYX Professional Makeup Pore Filler or Danessa Myricks Beauty Smooth FX Refining Gel
---
Choose the right concealer

Choosing the right concealer for your acne scars really comes down to personal preference and your skin type. Concealers can range in texture from thin liquids (like Hourglass Airbrush Concealer) to thick, emollient creams (like Kevyn Aucoin The Sensual Skin Enhancer). When it comes to acne scars, it's best to choose a concealer with a matte or satin finish—some concealers designed for under-eyes can have a luminous or light-reflective finish, which can make textured scars look more noticeable.
---
Apply concealer carefully

When it comes to concealing acne scars, always start small. Tap a tiny amount of concealer onto your skin—around the size of half of a grain of rice or less—and pat it into skin with a concealer brush, makeup sponge, or your finger. Once this thin layer of concealer sinks in and melds with your skin, you can add another to build more coverage. Starting with too much concealer can lead to cakiness and visible texture, so it's best to apply in thin, barely-there layers. For longer-lasting wear, set your concealer with a small amount of powder.
Try: Charlotte Tilbury Airbrush Flawless Finish 1 Fair or RCMA Makeup No Color Powder
---
View Original Article