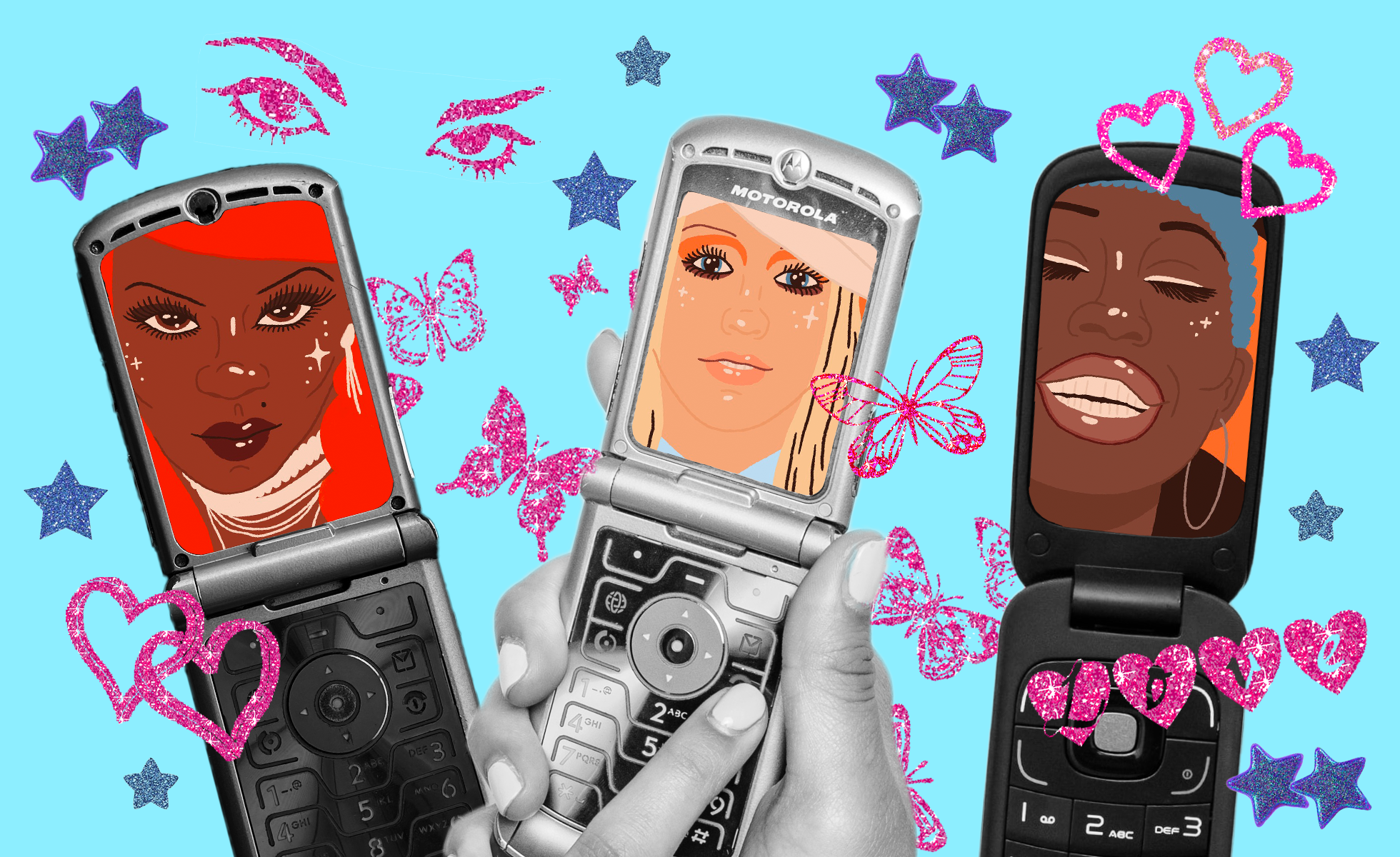 You're probably reading this because you don't want to slap on animal ears for the 10th Halloween in a row, but you also have no idea how to avoid basic costume options. This year, leave it up to your zodiac to decide what you wear.
I've paired each astrological sign with a music icon and one of their most memorable looks from the 2000's because, why not? Take a trip down memory lane or discover music and beauty history with these easy-to-follow recreations for your most unique Halloween look to date.
---
Capricorn: Lil' Kim in the "Lady Marmalade" music video (2001)
---

"Hey sisters, soul sisters, better get that dough, sisters." I can guarantee that this Lil' Kim verse from "Lady Marmalade" resonates with all Capricorns. As cardinal signs, Caps aren't afraid to take the lead and make some major coin. It's only fitting that successful sea-goats dress up as a Grammy award-winning cardinal sign who paved the way for rappers today: Lil' Kim. Recreate her smoldering smokey eye and vampy lip look from the "Lady Marmalade" music video and show up to the Halloween party as a badass chick from the Moulin Rouge.
---
What you'll need:
---
Aquarius: Missy Elliot in the "Work It" music video (2002)
---

"Give me all your numbers so I can phone ya" said every Tik Tok video of 2021. No one can come close to Missy Elliot's innovative flow and lyrics that remain timeless in her ongoing reign as queen of rap. As a bold and trendsetting artist, Elliot is the perfect match for forward-thinking Aquarians this season. Recreate Misdemeanor's look in her "Work It" music video by applying metallic eyeliner and a glossy ombre lip look.
---
What you'll need:
---
Pisces: Alicia Keys in the "Fallin'" music video (2001)
---

Armed with game-changing ideas and creativity, Pisceans are the dreamer of the zodiac. And who has the dreamiest vocals in the game? Alicia Keys, of course. Plus, Pisces are often natural-born musicians—so if you can also tear it up on the piano, definitely consider channeling Keys this Halloween. Recreate the inspiring singer-songwriter's look in her debut single "Fallin'" with metallic, gray smoky eyes and neutral, glossy lips.
---
What you'll need:
---
Aries: P!nk at the Grammys (2002)
---

As a fearless cardinal sign, Aries are known for their red-hot charisma and uninhibited personality—very much like powerhouse singer-songwriter P!nk. An Aries would rock P!nk's statement-making eye look, worn as she received a Grammy for her fiery performance in the early 2000's hit, "Lady Marmalade."
---
What you'll need:
---
Taurus: Beyoncé in the Bootylicious music video (2002)
---

Taureans live like queens, but somehow always manage to keep it real—just like Queen Bey. Confident Taurus also isn't afraid of a little sparkle and a whole lot of attention, so it seems fitting that this earth sign dress up as the brightest star of the 2000's—ahem, the brightest star period. Beyoncé (who's also an earth sign) dressed up in a vibrant pink ensemble with matching eyes in the music video for the hit song "Bootylicious." Create her showstopping look with hot pink shadow and soft pink lip gloss.
---
What you'll need:
---
Gemini: Christina Aguilera at the VMAs (2002)
---

Throughout the early 2000's, Christina Aguilera was known for her iconic runs, outrageous style, and, of course, the blonde hair with chunky black highlights. Since Gemini's striking style and extroverted personalities naturally draw considerable attention, they'll feel completely comfortable stepping out in Xtina's VMA look this Halloween. Go for a sunset-inspired smoky eye and bronzed lips paired with a two-toned wig, which ties into Gemini's unique duality.
---
What you'll need:
---
Cancer: Brittney Spears in the "Oops I Did It Again" music video (2000)
---

Cancers, you're often dubbed "too nice," but in the words of the legendary Britney Spears—you're not that innocent. These water signs give sweet, crab-next-door vibes (see what I did there), but the cardinal signs do have savage tendencies. Dress up as the one and only Britney Spears for a main character moment this holiday season. Wear the pop icon's unforgettable red jumpsuit and shimmery eye shadow look in the ever-popular hit "Oops I Did It Again."
---
What you'll need:
---
Leo: Jennifer Lopez at the Grammys (2000)
---

Does this one even need an explanation? Of course, Leos should channel the best Grammys look of all time by none other than fiery Leo herself, J-Lo. With this plunging dress and matching eye look, Leos are sure to be the center of attention at any and all Halloween festivities—a dream come true for the lion. Just add green eye shadow to match the dress pattern and a swipe on a honey-hued balm.
---
What you'll need:
---
Virgo: Shania Twain in the "I'm Gonna Getcha Good!" music video (2002)
---

Productive Virgos go above and beyond to ensure the best outcome in all tasks. It's no secret that these high-achieving earth signs usually get what they want, and fellow Virgo, pop-country queen Shania Twain can attest. Shania's fierce, blue smokey eye paired with icy lips is just the power look Virgos need this Halloween.
---
What you'll need:
---
Libra - Aaliyah in the "Try Again" music video (2000)

Aaliyah will always live on through her industry-altering music and sheer talent as a triple threat. And Libras are just the sign to keep her legacy alive by recreating her glamorous, rhinestoned look in the "Try Again" music video. These air signs love to sparkle with head-turning looks and this shimmery, metallic smokey eye with glossy lips is sure to have everyone trying to talk with Libra again and again.
---
What you'll need:
Scorpio: Rihanna on her "Rated R" album cover (2009)
---

Let's jump into Rihanna's reign, which has yet to let up. Rihanna serves boss energy on the cover of Rated R—but do you expect anything less from one of the most powerful artists of all time? The only other people who could pull off this fierce look are Scorpios. These strong and confident water signs were made to wear this intense liner and black lip look.
---
What you'll need:
---
Sagittarius: Avril Lavigne in the "Girlfriend" music video (2007)
---

Sagittarius couldn't care less about your rules. This fire sign likes to blaze its own path. Unapologetic Sags definitely remember this hit by grunge pop-rock singer Avril Lavigne—and if you're an archer and haven't heard it, you're sure to love it. Channel Avril's signature look: heavy liner with a hint of metallic green and a hot pink hair clip-in.
---
What you'll need:
---
Illustrations by Megan Badilla
---
View Original Article